Braised Pork Belly with Adobo
Braised and then fried, just the way we love our pork belly.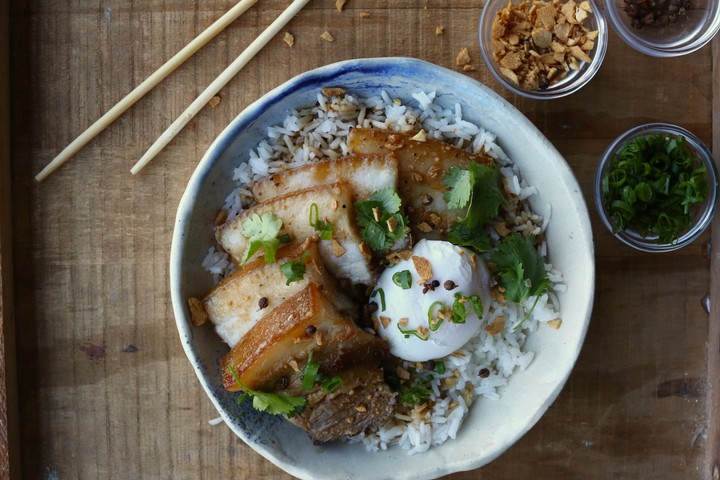 Photo by Farideh Sadeghin
Servings: 4
Prep: 20 minutes
Total: 3 hours
Ingredients
for the braising liquid:
6 bay leaves
2 each star anise
2/3 cup|175 ml kikoman light soy
2 tablespoons|7/8 ounce|28 grams of sugar
1/2 cup|2 5/8 ounce|76 grams salt
1/4 cup|2 ounces|60 ml cider vinegar
3 each|3/4 ounce|23 grams garlic cloves smashed
1 teaspoon|2 grams ground black pepper
3 pounds|1391g whole pork belly skin on
for the adobo sauce:
1 cup|8ounces|225ml kikoman light soy
2/3 cup|175ml chao koh coconut milk
1/3 cup|60 ml coconut vinegar
2 tablespoons|1 ounce|35ml canola oil
2 tablespoons|1 ounce|28 grams sugar
3 cloves peeled garlic smashed
1 1/2 teaspoons|1/8 ounce|4 grams fresh ground black pepper
1/2 teaspoon bay leaf powder
for the coconut rice:
1 quart|900 grams jasmine rice
3/4 cup|165 grams granulated sugar
2 tablespoons|1/2 ounce|16g salt
3/4 cup|14 ounces|420 ml coconut milk
to finish:
1 each poached egg
1/2 teaspoon thinly sliced scallions (green part only)
1/2 teaspoon crispy garlic
cilantro leaves
pinch szechuan peppercorn
Directions
1. Braise the pork belly: Combine all the ingredients with 1 gallon|4 liters water and pour over pork belly. Cook at 325°F for 2 to 2 1/2 hours. You want the belly to be tender but not falling apart. Once its cooked, remove from the liquid and allow it to cool down in the refrigerator uncovered overnight. Portion into 5 ounce pieces.
2. Make the adobo sauce: Combine all ingredients with 1/3 cup|80ml water in a saucepan and simmer for 15-20 minutes.
3. Make the coconut rice: In a rice cooker, combine the rice, sugar, and salt with 1 quart|950 ml water. Cook the rice, about an hour and 10 minutes. Meanwhile, heat the coconut milk in a small saucepan. Once the rice is cooked, transfer the rice to a large bowl and scrape the burnt part from the bottom of the rice cooker pot. Mix the cooked rice well with the coconut milk and serve warm.
4. To finish, fry the pork belly at 375°F until the skin inside and crispy and the inside is hot, about 5 minutes. Slice thinly and serve with 2 ounces of the adobo sauce, the poached egg, and all of the garnishes. Make sure to serve with coconut rice.