The 2017 MUNCHIES Holiday Gift Guide
Something for everybody (including you).
Bashing 2016 was all the rage in 2016. But then 2017 rolled around and showed us what a crazy year actually looked like.
Will it get better? Will it get even crazier? No one knows—and it doesn't really matter anymore, because it's the holidays and the one thing you do have control over is making other people happy by buying them cool, thoughtful stuff.
We've put together five gift guides that are guaranteed to help you find the right gift for the right person, whether it's a ranch dressing fountain for the office Christmas party or a murdered-out all-black KitchenAid mixer for your stoner metalhead roommate to make weed cookies, it's been a rough one, and you might as well treat yourself and others to the carefully curated treats from our very own MUNCHIES Holiday Gift Guides.
Booze
Our boozy gift list has an item for every conceivable type of drinker you know, from the natural wine drinker to the Campari lush to the Fireball gummy bear enthusiast.
Cookbooks
Everyone from MUNCHIES to (a posthumous) Salvador Dalí to Action Bronson put out a cookbook this year, and there's no shortage of brilliance in our cookbook gift guide. Stock your bookshelves now; they're so good, you just might forget all of the bad stuff about 2017.
Luxury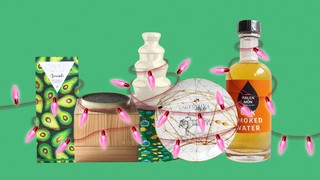 No gift guide is complete without some sky-high-priced and completely unnecessary luxury items; this year, we're feeling charmed by personalized caviar boxes and $35,000 bottles of Champagne that remind you how holidays are a time to spoil and be spoiled.
Kitchen Gear
Your waffle- and coffee-making games are about to get a serious upgrade with our list of kitchen gadgetry that will make whoever's on the receiving end of these gifts feel like they work in the Noma test kitchen.
Weed
Before 2017 vanishes like a cloud of smoke, make sure to check out these essential weed stocking-stuffers, like 24-karat-gold ashtrays, Guggenheim-inspired grinders, and high-end edibles.