Mariah Carey's Sugar Cookies
If you can't look or sing like Mariah, at least you can bake like her.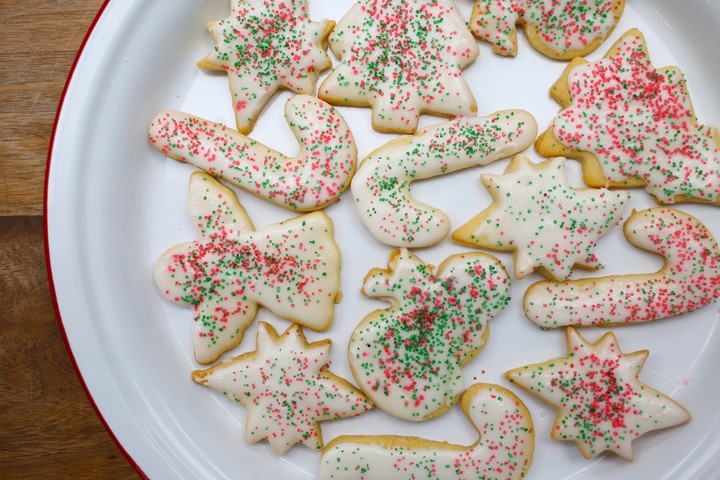 Photo by Farideh Sadeghin
Makes about 4 dozen
Prep: 10 minutes
Total: 1 hour
Ingredients
1 cup unsalted butter
1 cup granulated sugar
1 tablespoon whole milk
1 teaspoon lemon zest
1 teaspoon vanilla extract
1 large egg
2 3/4 cups all-purpose flour, plus more for dusting
1 teaspoon baking powder
1/4 teaspoon kosher salt
icing
red and green sprinkles
milk, for serving
Directions
1. In a large bowl and using a hand mixer, cream butter and sugar until light and fluffy. Add in the milk, zest, vanilla, and egg and mix until smooth. In a separate bowl, combine the flour, baking powder, and salt. Gradually add the dry ingredients to the wet ingredients until thoroughly combined. Chill for 30 minutes.
2. Heat the oven to 350°F. On a lightly floured surface, roll the dough out into a circle, about 1/8-inch thick. Using cookie cutters, cut into shapes and transfer the cookies to a parchment paper-lined baking sheet. Bake until lightly browned, about 12 to 15 minutes. Transfer to wire racks to cool and decorate with icing and sprinkles. Place cookies on a plate beside the Christmas tree with a tall glass of milk for Santa Claus on Christmas Eve!
This recipe originally appeared on now-defunct site PopEater.