The Beauty of the British Hospital Canteen
Despite funding cuts and back door privatization, the NHS is still Britain's greatest achievement. And where better to taste that founding spirit of care and social justice than in its communal dining spaces?
Walking past the "Discharge Lounge" and "Dirty Cupboard" of Homerton University Hospital, I inevitably start to giggle. I'm not alone. My friend, who will be training at the hospital as a psychologist next year, is snapping a photo of the door signs on her phone and stifling a laugh. The National Health Service is mighty, beautiful, essential—but it isn't without humour.
Despite the current Government's apparent attempts to bring the NHS to its knees through funding cuts, restructuring, and back door privatisation; the organisation is still one of Britain's greatest achievements. Despite the £20 billion NHS-wide "savings drive" masterminded by Jeremy Hunt, despite the scapegoating of overworked GPs, and despite the fact that thousands will be marching through London this weekend in the #OurNHS protest, British hospitals are still a thing of wonder. The NHS is still arguably the best healthcare system in the world.
And where better to taste that founding spirit of care and social justice than in the canteens of its hospitals? I set off to have breakfast, lunch, and tea at three different London hospitals to find out firsthand what state our healthcare system is in.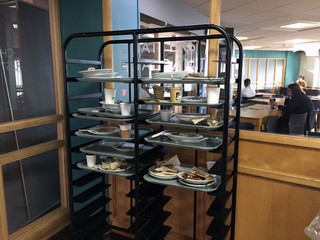 There is something incredible about queuing up for a fried egg directly behind some of the greatest surgeons in the country. As I stand in the warmly lit canteen of Homerton Hospital in East London, I look around and realise that in here, qualifications, pay scales, uniforms, accents, ethnicity, ability, and age mean nothing: we're all eating the same breakfast, bought for the same price, overlooking the same car park. A brain surgeon eats a plate of £1.30 hash browns, a ladle full of baked beans, and a cup of tea with dots of tannin swimming across the surface. On a table just a few metres away, a contract cleaner is sitting down to exactly the same meal after a night shift. Where else in Britain do you get that?
Plus, the breakfast is amazing value. I get a cup of tea, beans on toast, and brown sauce for less than the cost of a Starbucks coffee.
"Bang an ickle egg on top of that," says Precious, the woman at the cashier till. "Make it look nicer." When I ask whether she has had a busy morning, she laughs, rolling out of her seat like a judo wrestler.
"All the mornings are busy here."
She's not wrong. With staffing levels stretched to breaking point, everyone at Homerton is working far harder than I ever have to cover for the shortfall in recruitment. I watch a surgeon at a corner table walk over to a telephone and make a call to check on a patient's recovery, leaving her toast to go cold.
As my friend and I tuck into our breakfasts, I scan the other faces in the canteen. The catering manager (a young guy dressed like Jonny Lee Miller in Trainspotting), the doctors, the people in cleaners' uniforms, the admin staff, the caterers, and porters—so many of these people are the very immigrants we're told to fear and loathe. And yet here they all are, keeping the show on the road.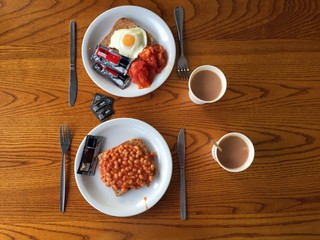 On our way out of the dining hall, a pregnant woman in a wheelchair comes in and starts reading the menu: £1.45 for carrot and cumin soup, £2.75 for steak and kidney pie, any five breakfast items for £2.95, fresh fruit salad for £1.50. She gives me a wink as I stack my dirty tray. I smile back, trying to express "Good luck" but probably come across as simply looking very full.
A few days later, I cycle down to St. Thomas' Hospital in Lambeth for lunch. I'm fresh from a boxing class the night before and am basically ready to eat my own handlebars. On the way from Hackney, I pass the London Eye, the National Theatre, London Bridge, New Scotland Yard, and St. Paul's Cathedral. I'm wheeling through a cut-out-and-keep tourist map of London's iconic skyline to end up here, outside the Accident and Emergency department of one of London's busiest hospitals.
As I lock up my bike, I notice a woman in a puffy green jacket with a stethoscope around her neck waiting at the lights. I'm definitely in the right place.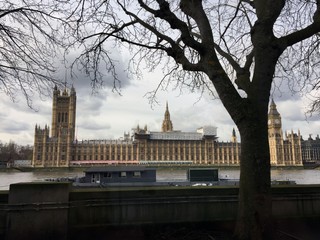 The view over the Thames to the Houses of Parliament from St. Thomas' Shepherd Hall canteen is dazzling in the cold February sunshine. By the time I get there, lunch is already in full swing. It is 11.35 AM. That's my kind of lunchtime.
Queuing up behind patients in pyjama bottoms and men in white shirts, my heart soars at the food selection on display. There is a whole warming plate just for pasties. There is a chicken stew, a risotto, some noodles. There are baked potatoes, beans, chips, steamed veg. Across the way, there is a massive salad bar and a fridge full of sandwiches, drinks, and snacks. I order the Singapore noodles with Quorn and get a free side serving of green beans. The woman who serves me seems amused as I furtively photograph the glistening plates of golden pastry. I supplement my lunch with an apple, a pear, and a carton of orange juice, with the whole thing coming to just £5.65.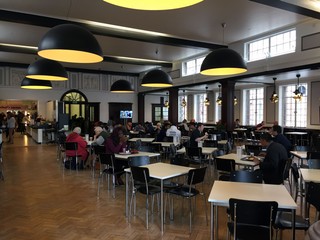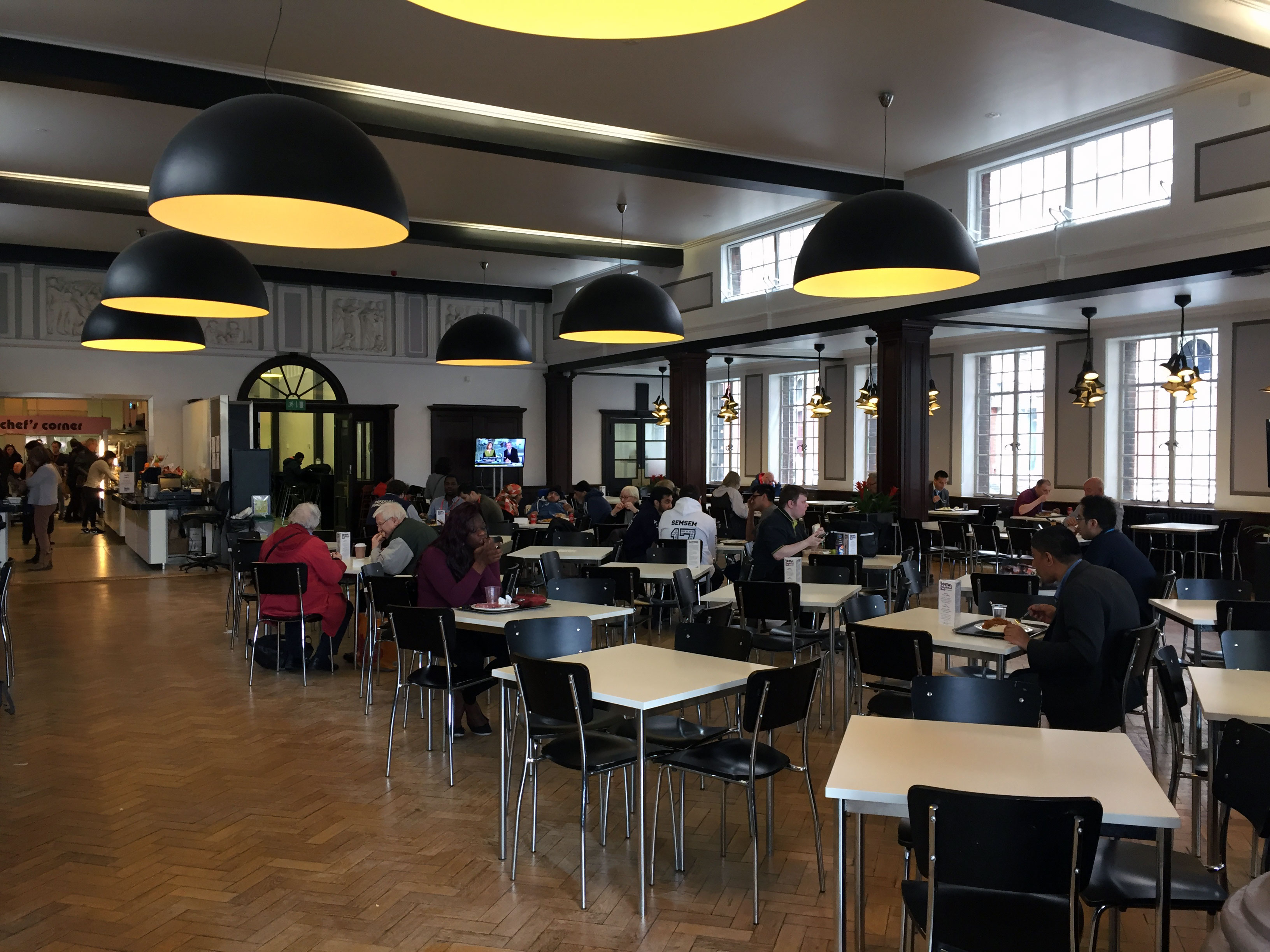 I sit down near a man wearing a "Take Pride in Lambeth" jumper. Two tables away, a pair of old men sit drinking tea with a Manchester United scarf draped across the table. A woman in maroon scrubs is eating on her own, looking directly out at the Houses of Parliament. Two nurses in pale blue smocks with navy pockets sit opposite each other eating chips, beans, and baked potatoes and chatting in low, confidential voices.
I start on my Singapore noodles. They are sweet—very sweet, in fact—but incredibly comforting. I think of my dad, who works at a hospital in Oxford, and the relish he takes in treating himself to a canteen lunch once a week; of the "round the world" specials they put on, and the time I visited during Lebanese week and ate two huge plates of chickpea stew. I can see why he loves it.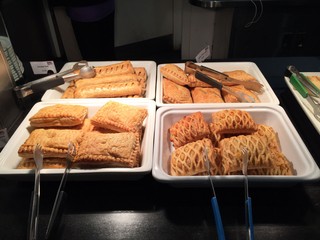 Shepherd Hall is, like the other cafes and canteens in the Guy's and St. Thomas' NHS Foundation Trust, affectionately referred to as "Tom's." When I think of all the people—the families, the doctors, the builders, the children, the nurses, the surgeons, the cancer patients, the grandparents, and pregnant women—who must have eaten in a Tom's over the last year, my head starts to swim.
An ambulance goes past the window in the midday sun and a kid with a nose tube and padded head support is wheeled past me in his buggy.
As I finish my juice, one of the old men with the Manchester United scarf stands up and brushes crumbs off his t-shirt. A young man in Caterpillar work boots and a navy tracksuit top tucks into a little pot of red jelly from his lunch box. The restaurant is quiet—not an exhausted, scared quiet but a low, reassuring hum of activity as the people who deliver babies and administer life-saving care chow down on baked potatoes and coleslaw just like anybody else.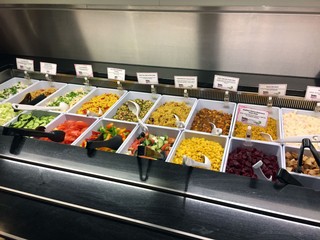 After lunch, I cycle up through Central London to University College Hospital—part of the University College London Hospitals NHS Foundation Trust. I walk down to the huge glass entrance and pass a man without an ear picking something up from the dispensary, feeling like I've cut through to the very atrium of London's medical heart. There are swarms of people at this hospital—patients sitting in the entrance hall, staff lining the corridor that faces onto the street, men crouched on top of holdalls on the floor, and mums trying to entertain their increasingly fractious children.
I head right and walk down to the corridor to the canteen. It is branded under the name "Refresh" and is open from 7.30 in the morning to 8.30 PM, Monday to Friday.
By now, I'm ready for something sweet, so jump to the stainless steel hotplate covered in bowls of Bakewell tart. A sign tells me that it's £1.75 for tart and custard, and I'm powerless to resist.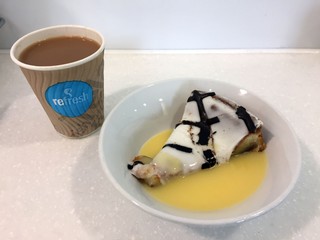 I grab a bowl and and weave my way through the tightly packed tables to a seat by the window. As I sit down, a man in a blue uniform wanders over and asks if the chair opposite me is free. I say it would be my pleasure. He pulls out a Tupperware box of lentils and an apple, and I start to feel slightly self-conscious about the huge bowl of perfectly yellow custard in front of me.

"I suddenly feel a bit guilty about this pudding," I tell him, nodding at his lentils.
"Ah, I think having a hot pudding in the middle of the day is OK. After all, is that all you've had for lunch?" he asks.
Panicked, I lie. I say that yes, this is my entire lunch right here. I also don't tell him I'm writing an article. Instead, I ask if he cooked the dhal himself.
"Oh yeah, I cook every day, just like that," he says, snapping his fingers. "It helps me draw a line between work and sleep."
Often, he tells me, he works a night shift, then maybe a double shift, then maybe a day shift, so his body never has time to adjust. I am struck, not for the first time, by just how much we ask our health staff to put their bodies through to keep us healthy—how ill they must become, in order to keep us well.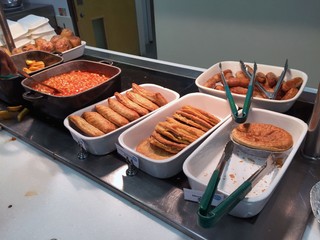 The man tells me that he's also started doing stop-frame animation on his days off. He says that the process is similar to the way they photograph barium meals in the hospital, following frame by frame the way the radiation moves through your body to try and detect problems and blockages under X-Ray. I'm amazed. The reason he likes animation, he says, is because it forces you to slow down, to make tiny adjustments, and to expand a minute into a hundred tiny flashes. It is the opposite of efficient.
"In the health service, we're expected to do a lot in a small space whereas with animation, you're doing something small in a big space," he explains.
He's not critical, just matter-of-fact.
With his words still ringing in my ears, I say goodbye, stand up, and start to walk out of the hospital; past the families enjoying baked beans and chips, past the staff eating out of plastic lunch boxes, past the patients sitting down to cups of coffee.
In the NHS, we expect efficiency, humanity, incredible ability, and humility. We expect it to produce miracles out of shrinking budgets, ageing equipment, and fractured staff.
Eating my way around these hospitals, and having eaten in hospitals elsewhere across the country, has highlighted to me just how much the NHS is expected to do with so little. It is our greatest national asset and we are squeezing it to breaking point. It is with us from the cradle to the grave, for breakfast, lunch, and dinner. And, as it turns 70 next year, we risk of losing it forever.
It's enough to ruin your appetite.