Cranberry Citrus Sauce
Dried and fresh cranberries are used in this simple and updated version of the canned crap you grew up with.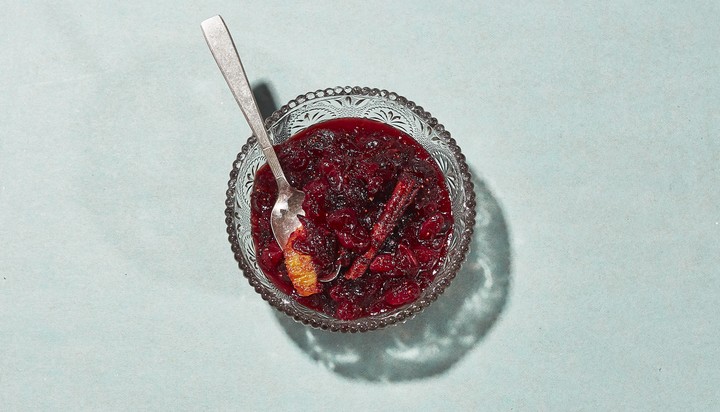 Photo by Heami Lee
Servings: 8
Prep: 10 minutes
Total: 30 minutes
Ingredients
12 ounces|350 grams fresh cranberries
6 ounces|170 grams whole dried cranberries
2 cups|500 ml orange juice
½ cup|115 grams granulated sugar
¼ teaspoon salt
⅛ teaspoon ground cloves
1 cinnamon stick
1 orange, peel removed with a vegetable peeler and thinly sliced crosswise, fruit segmented
Directions
Combine all ingredients except orange segments in a 4-qt. saucepan over medium-high heat. Bring to a simmer, cover, and reduce heat to medium; cook until cranberries have burst, 8-10 minutes. Uncover and cook until liquid has reduced and sauce has thickened, about 20 minutes more. Gently stir in orange segments and serve warm or refrigerate up to 4 days and serve chilled.