32 Grilling Recipes to Release Your Inner Grill Dad This Summer
You'll have to provide your own khaki shorts and Jimmy Buffet shirt.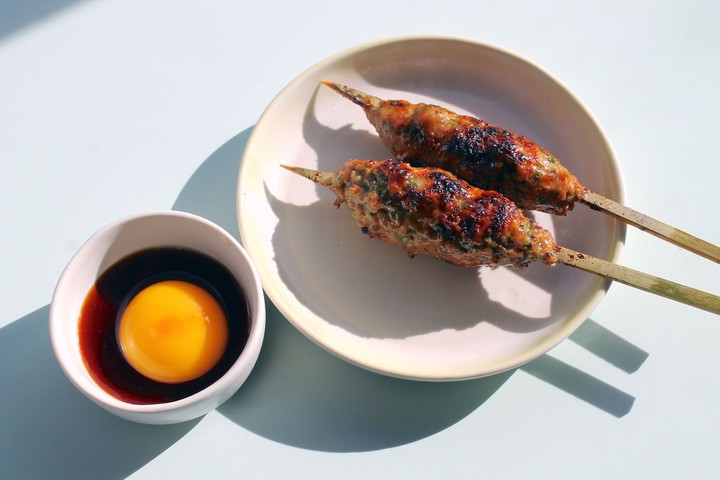 We could wait until Memorial Day or the Fourth of July roll around, but if you want to be a Guy Fieri-level grill master by the time the summer holidays roll around, you're going to need to start perfecting your technique now. Short of hiring a generic Dad-figure "named Bill, Randy or Dave" to man your grill station, you stand the best chance at success if the first time you fire up the grill is not the day of the main event. Give yourself some time to work out your nerves over an open flame. It's finally stayed above freezing for a few weeks, so it's about time to break out the ol' Weber and start making those good-good grilling smells that make the whole neighborhood hungry. Take a minute to watch our resident grill expert J. Pereira show you the right way to light a charcoal grill. (Put. the lighter fluid. down.) Then, study some of our backyard grilling primers from summers past. And finally, peruse this collection of our favorite proteins to throw on the grill, grab a beer, and get working on those perfect cross-hatched char lines.

If you're not working with real wood charcoal (as opposed to a gas flame) in your grill set up, you can just char the heck out of these spring onions right on the rack.
Get some experience with grilling a little bit of everything—meat, eggplants, peppers, tomatoes—with this Turkish lamb rump dish. Every component should get a little bit of nice char.
The best thing about koftas is that they're on a skewer, so eating them hot off the grill is easy. We wouldn't blame you for double fisting two of these.
Beautifully butchered and perfectly grilled lamb chops are impressive on their own, but this mint-yogurt-pine nut sauce is kind of stealing all of the spotlight here.
Let your oven do the work of roasting all of your veggies, and sneak outside away from the heat to take care of the lamb chops on the grill. No one wants to be searing anything on the stove while the oven's at 450°.
Chef Travis Lett of Gjelina likes to make these prawns campfire-style, by putting a cast-iron pan right over a live fire. You can recreate that with your grill.
What's better than a grilled kebab? A grilled kebab with an edible skewer. Munch on these spicy Jamaican-inspired shrimp, then let the sweet sugar cane soothe the burn afterward.
Chipotles in adobo sauce and mezcal both already have those deliciously smoky notes going on. Amp it up even more by getting some nice smoky char on your prawns.
If you like a raw oyster shooter, you're going to love what a few minutes on the grill will do to all that briny ocean flavor.
Sometimes the simplest, un-fussiest preparations for fish are the best. Some olive oil, fresh cracked pepper, good flaky salt, and a lemon are all you need. (You can also use cannabis-infused oil for a little something extra.)
Red snapper is a perfect fish to grill for tacos: Its flesh is firm, and the fillets are wide enough that you don't have to be worried about the whole thing falling apart on the rack.
You might be used to your ceviche being served raw with only a little curing from the acid of lime juice. But this ceviche en brasas de carbon—translated, ceviche in coal embers—gets a little smoke and heat from the fire.
Chef Travis Lett is back again with another excellent seafood recipe, and this time with advice about shopping for octopus. "Do not buy the preboiled variety often sold at Japanese markets. Better to get it raw. … And ask the fishmonger to clean [it] for you."
Look, we've gotten some flak for some things we've written about American barbecue before here at MUNCHIES. So we'll let these Welsh chefs make their own case for how this barbecue chicken stacks up against its Texan brethren. We'll make no more claims about barbecue imperialism.
If you've never really known what else to do with ground chicken, give these yakitori-style skewers a try on the grill.
The vinegary caramel sauce can get a little intense in this dish, but a nice, crispy, slightly-charred skin on the chicken thighs tempers it a bit.
Great news: your barbecue habit does not have to break your paleo diet this summer. You won't miss the ketchup-y, molasses-heavy barbecue sauce with this herby green marinade from Nom Nom Paleo author Michelle Tam.
Watch J. Periera, our go-to grill guy, grill a whole chicken in the most dignified way, by stuffing a beer can up its butt.
This pretty-in-pink hibiscus petal sauce is the best way to make grilled chicken breasts as not-boring as they usually are.
Skewering these chicken hearts with a rosemary sprig before getting them nice and crispy on the grill leaves behind just the right amount of herby flavor to balance nicely with the lemon and tahini.
This corn and tomato panzanella salad is the perfect summery accompaniment to a whole grilled squab—or chicken, if you don't want to get too fancy with game birds.
Give this all-in-one menu, featuring grilled duck breast, a try if you do happen to be feeling a little fancy this summer.
Did you think we'd leave you without a guide to the perfect cheeseburger? We're offended you think we could be so remiss.
Our good friend and The Hangover Show host Cara Nicoletti's here for you and your vegetarian friends so everybody gets to enjoy the grilling season.
A well-grilled—and well-marinated—pork chop does not taste like the cardboard you might be expecting. (Why is it that it's so hard to cook pork that doesn't taste like cardboard, folks? What is going on with y'all?)
If you're feeling tentative about blowing all of that dough on a big-ass ribeye because you think you'll turn it into a hockey puck on the grill, watch our friend and Austin chef Jesse Griffiths walk you through it. (Promise you his smooth, chill voice alone will calm your pre-grilling nerves.) His basic instructions are in word form here.
Matty Matheson is not. fucking. around. with these fajitas, skipping the traditional skirt steak and going straight for the monstrous tomahawk steak, grilled to a perfect medium-rare.
Put that A-1 steak sauce down. You did not go through all this trouble to perfectly cook a rib eye to ruin it with that crap. Give your beauty of a steak the condiment it deserves— nam jim.
Use this marinated skirt steak for the Mission-style tacos of your dreams.
Grilled sausage on a toasted bun is a totally underrated part of the backyard barbecue. Make it nice with this recipe for homemade chorizo, from Boston chef Jamie Bissonnette.
This jerk sauce is reason enough to give these pork ribs a try, but if you can learn how to trim a rack of ribs St. Louis-style, you'll really up your bbq presentation game.
If you've got a solid homemade sticky-sweet-spicy barbecue sauce recipe in your back pocket, you've already got summer grilling on lock. Your good friend Matty Matheson is here for you, and you can watch him make the whole thing in our How-To series.