Spam Guisada
Puerto Rican comfort food at its finest.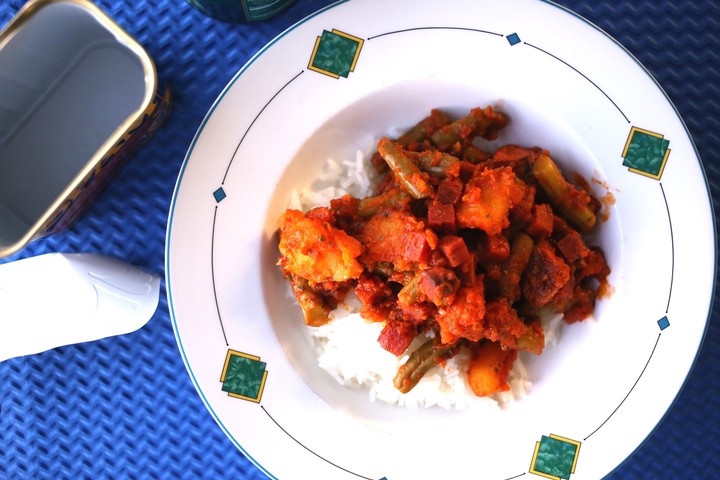 Servings: 8
Prep: 15 minutes
Total: 40 minutes
Ingredients
for the sofrito:
5 garlic cloves, roughly chopped
1 bunch cilantro, roughly chopped
1 green bell pepper, roughly chopped
1 jalapeno, roughly chopped
1 large tomato, roughly chopped
1 large yellow onion, roughly chopped
for the spam guisada:
2 tablespoons olive oil
1 (12-ounce|340 gram) can spam, diced
1 large potato, cut into large chunks
½ cup|180 grams sofrito
1 (16-ounce) can tomato sauce
2 packets of Sazon; achiote with culantro
1 (14.5-ounce|411 gram) can green beans
kosher salt and freshly ground black pepper, to taste
white rice, to serve
Directions
1. Make the sofrito: Place all ingredients in a food processor and purée until chunky. Set aside.
2. Make the spam guisada: Heat olive oil over medium heat in a cast-iron skillet. Add the potatoes and spam and cook until golden, 12 minutes. Add the sofrito and cook 1 minute more. Add the tomato and sazon and cook until the potatoes are tender, 1 to 2 minutes longer. Stir in the green beans and season with salt and pepper. Cook for 3 minutes, then serve over white rice.