WATCH: Hero Quits Popeye's Job in Style with Epic Big Pun Remix
You'll never listen to "Still Not a Player" again without thinking of delicious fried chicken.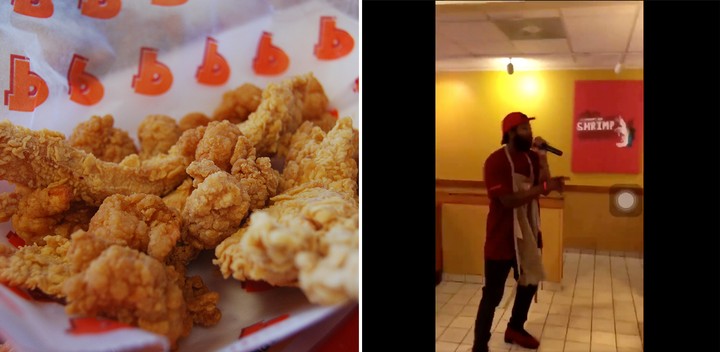 Photo via Flickr user Lady Ducayne / Screengrab via Twitter
It's a gray-ass Thursday afternoon on the East Coast, so most of us are probably sitting at our desks, staring out the nearest window, and wondering whether it would be easier to write a resignation letter or just to, like, fake our own deaths. (Confidential to My Bosses: I AM NOT THINKING ABOUT EITHER OF THOSE THINGS I LOVE YOU). But one Kansas City man decided to do something next-level when it came to quitting his job, so he got his hype man, grabbed a microphone, and went straight to Popeye's Louisiana Kitchen.
"Excuse me, sir, I'm quitting my job today," Cedric Workcuff said, as he walked into the restaurant. Workcuff walked toward the counter, the strings of his embroidered Popeye's apron trailing behind him, and said, "So I've got an announcement. I'm quitting my job today."
Then, an instrumental version of Big Pun's timeless anthem "Still Not a Player" started playing, Workcuff broke into his own verses, and strangers put down their Bonafide Chicken and picked up their phones.
"I don't really want to work here no more," he sang. "And I'ma tell that y'all be dropping chicken on the floor. I'm done, I'm done, I'm done." (Dude at 1:27 is into it; the woman at 1:53 is decidedly not).
As satisfying is it was to see Workcuff sing a "see you never" in the direction of his now-former coworkers, they, uh, weren't his coworkers at all. In actuality, Workcuff didn't work at Popeye's (and neither did Marco Summers, who filmed the now-viral clip).
"I was an ignorant witness who thought it was real until afterward," Spencer Sneddon, who was eating with his wife at the time, told MUNCHIES. "He didn't work there but I totally thought it was real until the employees said, 'Who the fuck was that?!" right after he left." (Sneddon, the guy in the checked shirt in the clip above, also filmed the performance).
"It's something me and Marco wanted to put in the works," Workcuff told KSHB. "It wasn't planned. It was all improvised. Only the idea was planned." The two of them have collaborated on several videos and eventually hope to leverage their online success into a television show.
Although it's slightly disappointing that he didn't actually quit by reworking one of the hottest tracks of 1998, but it still takes guts to go into a random Popeye's, break into song ,and then theatrically throw your apron on the floor. There were apparently no hard feelings: Shortly afterward, Workcuff posted a picture of a box of Popeye's chicken on Facebook. "Still had to get some anyway lol," he wrote.