Chipotle Deviled Eggs Recipe
Spice up your next party with these perfectly smoky bites.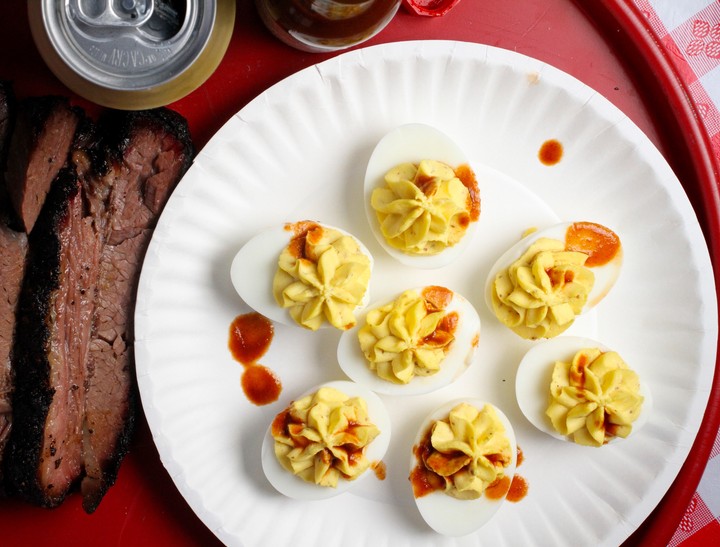 Photo by Farideh Sadeghin
Servings: a crowd
Prep: 5 minutes
Total: 25 minutes
Ingredients
kosher salt, to taste
12 large eggs, at room temperature
7 tablespoons|100 grams mayonnaise
2 teaspoons Creole mustard
1 teaspoon champagne vinegar
1/2 teaspoon mustard powder
1/4 teaspoon cayenne pepper
4 dashes chipotle hot sauce, preferably Tabasco, plus more to serve
freshly ground black pepper, to taste
Directions
1. Bring a large saucepan of generously salted water to a boil. Add the eggs and cook for 10 minutes. Remove from heat and run under cold water.
2. Peel the eggs and halve them lengthwise. Remove the yolk and place in a medium bowl. Rinse the egg whites off and place the egg whites on a serving platter.
3. Using a fork, smash the yolks until smooth (you can also throw them in a food processor with the remaining ingredients to insure that they will be silky smooth, if you like). Add the remaining ingredients, salt, and pepper and transfer the mixture to a piping bag. Pipe the mixture into the egg whites and drizzle with more chipotle hot sauce to serve.