Spaghetti and Meatballs
With 3 kinds of meat, these balls might just be the most flavorful and juicy in all the land.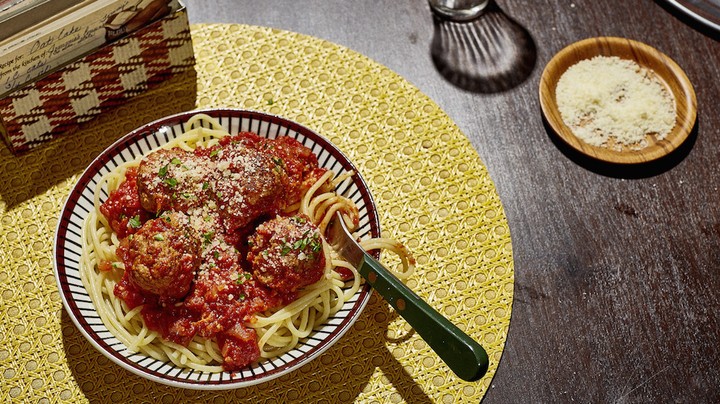 Photo by Heami Lee
Servings: 8
Prep: 20 minutes
Total: about 2 hours
Ingredients
for the marinara sauce:
1/4 cup extra-virgin olive oil
5 garlic cloves, minced
1 medium yellow onion, diced
3 tablespoons tomato paste
6 cups tomato puree
3 tablespoons granulated sugar
2 fresh bay leaves
for the meatballs:
3 slices day old (or older) white bread
1/4 cup|60 ml whole milk
1/2 pound ground beef
1/2 pound ground pork
1/2 pound ground veal
1 cup finely grated Parmesan cheese
1/2 cup breadcrumbs
1/2 cup finely grated Pecorino Romano cheese
3 tablespoons olive oil, plus more for cooking
1 tablespoon crushed chili flakes
1 tablespoon freshly ground black pepper
2 teaspoon kosher salt
3 large eggs
canola oil, for greasing
to serve:
1 pound spaghetti
minced parsley
freshly grated parmesan cheese
Directions
1. Make the marinara sauce: Heat the olive oil in a large dutch oven over medium. Add the garlic and onion and cook until translucent and fragrant, about 5 minutes. Stir in the tomato paste and continue to cook until the color deepens into a dark red and raw, "tinny" taste disappears, about 5 minutes. Pour in the tomato puree, sugar, and bay leaves and season with salt and pepper. Bring to a boil, then reduce the heat to maintain a simmer. Cook for 1 hour, then keep warm.
2. Meanwhile, make the meatballs: In a large bowl and using your hands, tear the white bread into small pieces. Pour the milk over and mix to form a wet bread crumb. Add the meats, cheeses, breadcrumbs, olive oil, chili flakes, pepper, salt, and eggs. Work mixture with your hands until evenly combined.
3. Rub a few drop of canola oil into the palm of your hands, then form a golf ball-sized
ball from the meat mixture. Place on a parchment paper-lined baking sheet. Repeat with remaining meat mixture, reapplying more canola oil to your hands as needed to avoid sticking.
4. Heat about 2 tablespoons olive oil a large skillet over high. Working in batches, sear the meatballs until deep brown on all sides, about 3 minutes. Remove the balls from pan and immediately place into pot of simmering marinara sauce until cooked through, about 1 hour.
5. To serve, bring a large pot of generously salted water to a boil. Add the pasta and cook until al dente, about 9 minutes. Drain, the transfer the spaghetti to a large serving platter. Top with the meatballs and marinara sauce and garnish with parsley and grated parmesan cheese.
---
WATCH: Matty's Classic Marinara and Meatballs
---