8 Dumpling Recipes to Make for Any and All Occasions
Shumai, potstickers, khinkhali--you name it, we can show you the way.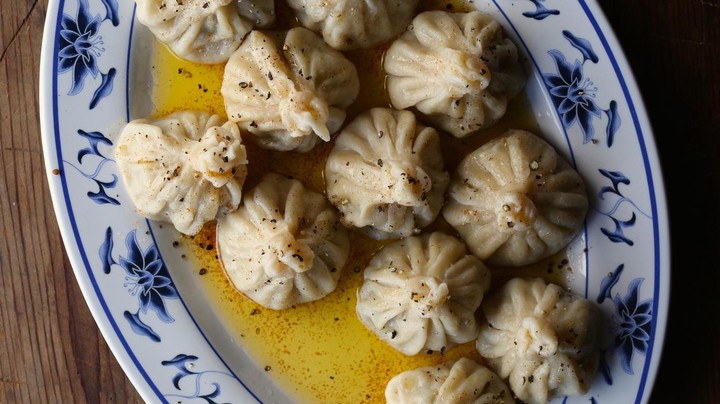 Photo by Farideh Sadeghin
We're not afraid to play fast and loose with the definition of "dumpling." Some sort of filling—sweet or savory—wrapped in a doughy substance? Definitely a dumpling. A potatoey mixture that's boiled or fried, a la gnocchi? Also a dumpling. Then there's chicken-and-dumplings style, which we wish were appropriate to put on top of more foods besides just chicken. Some people even go so far as to consider tamales a dumpling—all that delicious filling tucked inside steamed, ground masa sounds an awful lot like a dumpling to us. We're not the first to say that dumplings are a sort of universal culinary language—everyone's got a doughy, delicious little lump of goodness that fills bellies and is the ultimate comfort food. Here's the MUNCHIES collection of our best "dumplings" from around the world.
First things first: If you're gonna make dumplings at home, you should really commit. Go all out and make your wrappers from scratch.

Half the fun of soup dumplings is getting a little messy, broth running down your chin, slurping unashamedly. Now you can at least do all of that in the privacy of your own home.
This is a pure classic from Sue Chan, a recipe by a home cook for a home cook. No cheffy tricks here, just dumplings the way Sue's mom used to make.
You think Sue would leave you without a dessert option? A consummate host, she of course comes through in the clutch with a step-by-step tutorial and everything.
We call them pork and chive dumplings, but everyone always forgets the ginger. Just a little pop brightens up these crowd pleasers. Make a million and stick 'em in the freezer for a rainy day.
New York's a good town for dumplings, but most people who know what's up know the best of the best are in Queens. These ones come from the owner of Flushing's Dumpling Galaxy, Helen You.
Porky, spicy, crispy. Everything you want in a potsticker.
If you're going to make shumai, you should probably make Nom Wah Tea Parlor's shumai. They've been in the dim sum game for nearly 100 years, so you're in good hands.
Khinkali are supposed to be spicy, but if you don't enjoy spice, adjust the flavor to your taste. Some people add garlic or cilantro, although some people think those additions are sacrilege. But cooking isn't about rules. As long as your khinkali are well seasoned and full of juice, they're a winner.
And if you need some help with terminology? We got you.