Midnight Spaghetti Recipe
Traditionally made and eaten in Italy after a long night of drinking, this version of midnight pasta is kind of like penne alla vodka, but with bacon, and we couldn't think of a better meal to have when tipsy.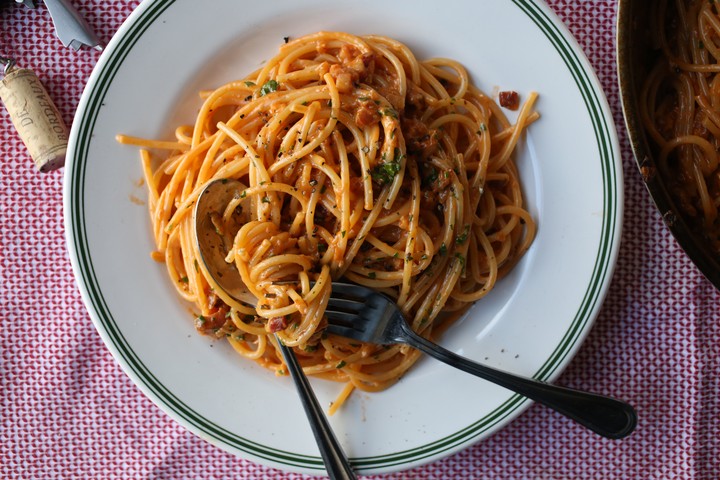 Photo by Farideh Sadeghin
Servings: 4
Prep: 10 minutes
Total: 35 minutes
Ingredients
3 tablespoons olive oil
1 pound|450 grams spaghetti
3 tablespoons|50 grams tomato paste
7 ounces|180 grams pancetta, diced
2 large yellow onions, diced
1 garlic clove, minced
1 handful chopped parsley
1 handful chopped chives
½ cup|125 ml vodka
1 cup|250 ml heavy cream
kosher salt and freshly ground black pepper, to taste
Directions
1. Heat the oil in a large skillet over medium-high. Add the onion and garlic and cook until soft, 8 minutes. Add the bacon and cook until crispy, about 20 minutes. Stir in the tomato paste and cook 2 minutes. Stir in the vodka and cook until evaporated, 1 minute longer, then stir in the cream. Cook for 3 minutes more, then keep warm.
2. Bring a large pot of generously salted water to a boil. Add the spaghetti and cook until al dente, about 8 minutes. Drain, then toss into the sauce. Season with salt and pepper and stir in the herbs. Serve immediately.