FBI Busts Senator for Dunkin Donuts Coffee Bribery Scheme
"No decaf... We like k cups at my office if possible."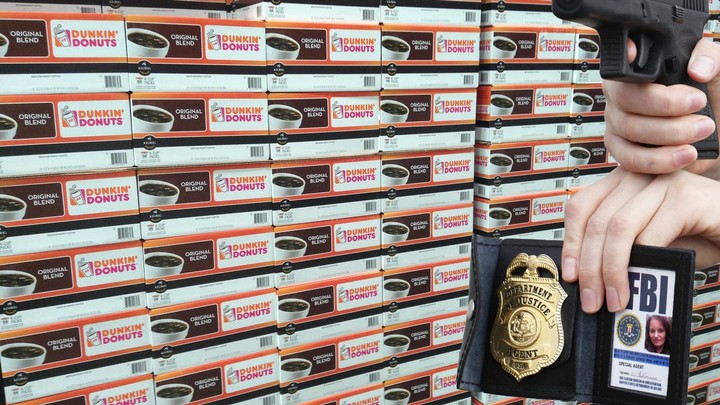 Photos via Flickr users Mike Mozart and Sarah_Ackerman.
Greed and corruption come in many forms. In a recent FBI investigation, it appears to have taken the form of 704 pounds of coffee in exchange for political influence.
Brian Joyce, who served nine terms as a Democratic Massachusetts state senator, was arrested by the FBI on Friday and charged with 113 counts ranging from racketeering to fraud to bribery in this strange coffee scheme, Boston.com reports, totaling "$1 million in bribes and kickbacks."
During a press conference addressing Joyce's arrest, US Attorney William Weinreb said he "ran his office as a criminal enterprise," and if the FBI allegations are to be believed, that criminal enterprise was fueled in part by a love of Dunkin's coffee.
"No decaf," Joyce reportedly wrote in an e-mail to a franchise owner. "We like k cups [sic] at my office if possible." According to the Boston Herald, the indictments specify that Joyce received $125,089 from the Dunkin' Donuts franchisee, "all while pushing legislation on the owner's behalf." In addition to cold, hard cash, Joyce allegedly received the aforementioned 704 pounds of Dunkin' Donuts coffee, which "he then dished off to fellow lawmakers and at various event."

"We are monitoring the situation," Dunkin' Donuts told MUNCHIES in an e-mailed statement. "Dunkin' Donuts restaurants are owned and operated by independent franchisees, who are required to obey all federal, state, and local laws."

The accusations outlined by the FBI cover a wide range of intricate "kickbacks," including allegedly disguising incoming money as legal fees for his law office and getting a free car from a dealership—but the mass quantity of free coffee might just be the most unexpected part of this equation of corruption.
"To conceal his corrupt relationship with the franchise owner," Weinreb clarified during the press conference. "Joyce submitted backdated cheques to the state ethics commission and he instructed the franchise owner and a relative to falsely represent to the ethics commission that they had agreed to provide Joyce coffee in exchange for legal services."
As Boston.com reports, Joyce has pleaded not guilty to the charges and posted a $250,000 bond as he awaits getting further roasted by the feds.
---
WATCH: Journey to Coffee Mecca