Cod Chowder Recipe
The secret to chowder perfection? Homemade fish stock (and bacon helps, too).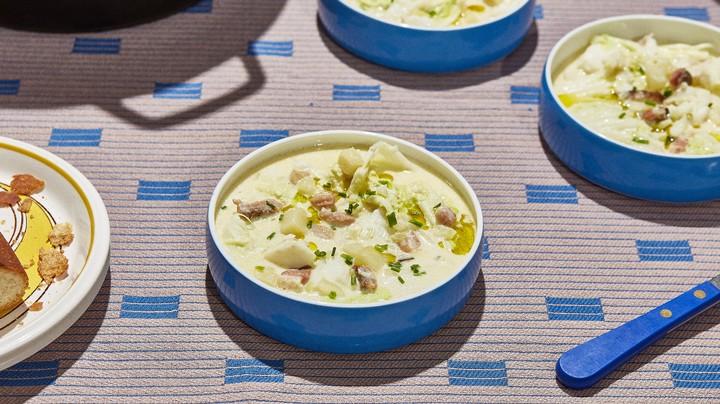 Photo by Heami Lee
Servings: 6
Prep: 20 minutes
Total: 2 hours
Ingredients
for the fish stock:
fish head, gills removed (about 3/4 pound)
1 fish, bones only
1 medium yellow onion, quartered
1 leek, light green parts only, roughly chopped
1 rib celery, quartered
2 bay leaf
6 thyme sprigs
1 small bunch flat leaf parsley
1 garlic clove, smashed
for the chowder:
10 ounces|300 grams double smoked slab bacon, diced
1 tablespoons unsalted butter
1/4 cup|60 ml olive oil, divided
1 leek stalk, light green only, finely chopped
1 medium white onion, finely diced
1 rib celery, finely diced
3 russet potatoes, peeled and diced into 1-inch cubes
3 cups|750 ml fish stock
3 cups|750 ml heavy cream
1 tablespoon heavy kosher salt
2 pounds|900 grams cod filet, cut into 1 1/2-inch chunks
2 1/2 cups|6 ounces|160 grams napa cabbage, torn into large leaves
1/4 cup|15 grams finely sliced chives
Directions
1. Make the fish stock: Place all the ingredients in a large stock pot and cover with 8 cups of water. Bring to a boil over high, then reduce the heat to maintain a simmer. Skim the scum from the surface and discard it as it rises. Simmer for 1 hour. Strain, discarding solids. You should have about 3 1/2 cups.
2. Make the chowder: Heat bacon, butter, and 1 tablespoon of olive oil in a large dutch oven medium-high. Cook until bacon starts to brown and the fat becomes translucent, 4 to 5 minutes. Reduce heat to medium and add in leek, onion, and celery. Cook until soft and fragrant, about 3 minutes.
3. Add the potatoes and fish stock. Bring to a quick boil then reduce heat to medium-low. Simmer until potatoes are fork tender, about 15 minutes. Stir in the cream and salt and cook for 10 minutes more.
4. Gently drop in cod chunks and let cook through, about 5 minutes. Stir in the napa cabbage leaves until they turn bright green and soften, about 2 minutes.
5. Spoon chowder into bowls. Garnish with chives and a drizzle of olive oil.