House Republican Says to Cut Food Stamps to Pay for Trump's Border Wall
King also equated a rise in food stamps to a rise in obesity.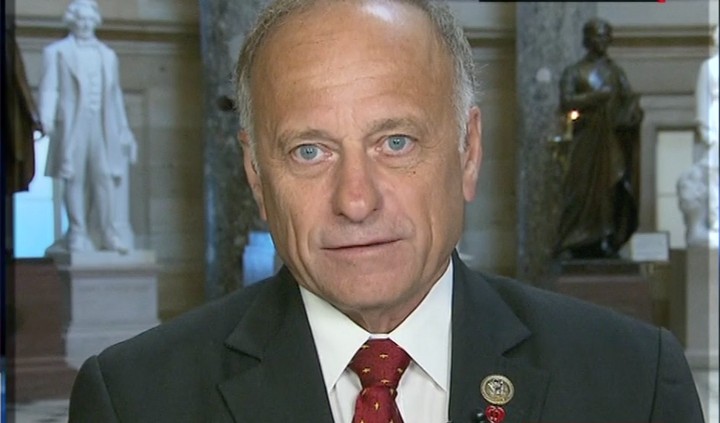 Screengrab: CNN
No one knows exactly how much President Trump's proposed "big, beautiful wall" between Mexico and the US will cost or how it will be paid for. Trump has repeatedly said Mexico will foot the bill. Mexico begs to differ. And now, a Republican Representative from Iowa, Steve King, has a new plan. During an interview on CNN yesterday, King suggested that certain Americans should bear a disproportionate burden of paying for the wall: low-income women, and the hungry.
A spending bill, introduced by the House Appropriations Committee this week allocates $1.6 billion of federal funds to the wall. But no one really thinks that's enough to pay for the massive project. In fact, an MIT study found that the 1,000-mile wall could cost as much as $40 billion—with $8.7 billion for concrete, $4.6 billion for steel, and labor costs as high as $27 billion.
No prob, said King on CNN. King said, "I'd throw another $5 billion on the pile, and I would find half of a billion of dollars of that right out of Planned Parenthood's budget. And the rest of it could come out of food stamps and the entitlements that are being spread out for people who have not worked in three generations."
Food stamps, officially known as the Supplemental Nutrition Assistance Program, offer assistance to roughly 45 million low-income people in the US on a regular basis. The program's funding is already on the chopping block, given that Trump's recent budget proposed cutting it by 25 percent over the next decade.
READ MORE: We Asked Policy Experts How Jeff Sessions Could Dismantle America's Food Stamp Programs
The idea that food stamp recipients are lazy and averse to work has been disputed time and time again, but continues to persist—particularly amongst the budget-slashing right. In fact, according to the USDA, more than half (55 percent) of all SNAP households with children already have a steady source of income. Among all SNAP participants, 44 percent of Americans in the program in 2015 lived in a household with at least one source of income, but less than 18 percent of all SNAP recipients had gross incomes above the poverty line.
SNAP currently requires all able-bodied adults without children to find a job within three months of signing up for SNAP benefits—and they can't even work less than 20 hours a week in that job without losing benefits. Still, King went on to say, "We've got to put America back to work, this administration will do it."

As far as the validity goes of King's claim that Trump's border wall would create far more jobs than the number of people who he wants kicked off food stamps to fund the wall, a recent study published by the National Bureau of Economic Research looked into the government's ending of the Bracero program that ran from 1942–1964 and effectively found that the roll-back of the program had little-to-no impact on wages and employment for domestic workers as was intended.
During the interview, King added another jab at SNAP recipients: "Food stamps were created to fight malnutrition but... the people who benefit from these programs are now overweight. Now we have a problem of obesity. And when you match up the card [that SNAP users receive] with what the scales say on some of the folks, I think it's worth looking at. Michelle Obama looked at it, Republicans should be able to look at it, too."
In fact, the data is mixed as to whether there is any correlation between food stamp policy and obesity. A 2007 study by the Economic Research Service of the US Department of Agriculture found no correlation in the general population, while a 2010 study by the Harvard School of Public Health found that obesity rates among SNAP participants were 30 percent higher than among non-participants. In any event, the reasons for obesity are complex, as is the issue of hunger in America.
Regarding King's remarks on Planned Parenthood, it bears repeating that the organization does not receive federal funding for abortions, but does receive federal funding for services such as cancer prevention screenings and STI testing.
All of which begs the somehow-ongoing question: Do we really need a wall in the first place?