Thanksgiving Leftovers Calzone
Take your Thanksgiving leftovers to the next level by stuffing them in a calzone.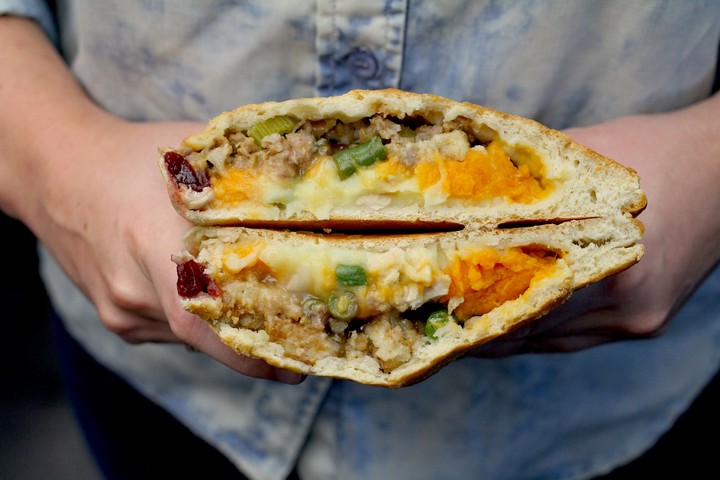 Photo by Farideh Sadeghin
Servings: 2-4
Prep: 10 minutes
Total: 1 hour 15 minutes
Ingredients
for the dough:
1 packet active dry yeast
1/2 teaspoon granulated sugar
1 3/4 cups all-purpose flour, plus more for dusting
1/2 teaspoon kosher salt
for the calzone:
turkey
stuffing
cranberry sauce
mashed potatoes
sweet potatoes
gravy
green beans
Directions
1. In the bowl of a stand mixer fitted with a dough hook, combine the yeast, sugar, and ¾ cups water heated to 115°F. Let sit until foamy, about 10 minutes. Add the flour and salt and mix on medium speed until a smooth dough forms, about 5 minutes. Cover bowl with plastic wrap and let rise 30 minutes.
2. Heat the oven to 425°F. Divide your dough into 2 equal-sized balls (you can actually make these smaller if you want, just make more balls). On a lightly floured surface and working with one ball of dough at a time, roll the dough out into a 9 to 10-inch circle. Spread some of your leftovers onto the calzone, whatever you got and feel like! Just take care not to over stuff it and use cold leftovers. You want to only cover half of the circle, leaving a 1/2-inch border. Start with a smear of mashed potatoes, top it with some vegetables and stuffing, then some turkey. Dot it with cranberry sauce and drizzle with some gravy. Fold the other half of the dough over the filling and, using a fork, seal the edges closed.
3. Using a pastry brush, brush some gravy over the top of the calzone. Cut some slits into the top with a knife or poke some holes with a fork (this allows some steam to release during cooking). Repeat with the remaining ball of dough and leftovers. Carefully transfer the calzone to a parchment paper-lined baking sheet and bake until golden and crispy, about 20 minutes. Cool slightly, then dig right in.