Jerk Chicken
With four types of chilies, this chicken is fire.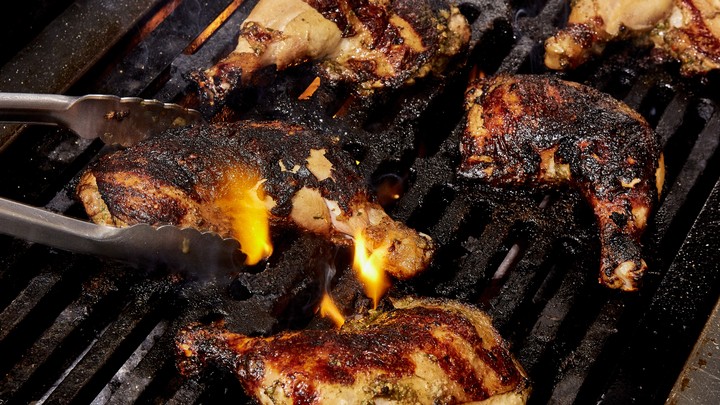 Photo by Heami Lee
Servings: 4
Prep: 15 minutes
Total: 1 hour plus 24 hours marination
Ingredients
1/2 cup canola oil, divided
2 bunches scallions
7 garlic cloves
1 yellow onion, quartered
1 (6-inch) piece ginger, peeled
3/4 cup soy sauce
2 tablespoons ground allspice
1 tablespoon ground cinnamon
3 cherry peppers, roughly chopped
3 habanero peppers, chopped
3 Scotch bonnet peppers, roughly chopped
1 jalapeno pepper, chopped
1/2 bunch thyme
6-8 whole chicken legs
Directions
1. Place half of the oil, the scallions, garlic, onion, and ginger in a blender and purée until smooth. Transfer to a bowl, then place the soy sauce, allspice, cinnamon, peppers, and thyme in the blender with the remaining oil. Blend until smooth, then transfer to the bowl with the onion mixture. Add the chicken and coat completely. Cover and refrigerate 24 hours.
2. Light a grill. Add the chicken, wiping off any excess marinade, and grill until charred on the outside but cooked in the middle (a thermometer inserted into the thickest part of the chicken should read 165°F), about 45 minutes. Transfer to a cutting board and rest for 10 minutes, then serve.