Vegan Broccoli Macaroni and 'Cheese'
Not your traditional macaroni and cheese, but equally as comforting.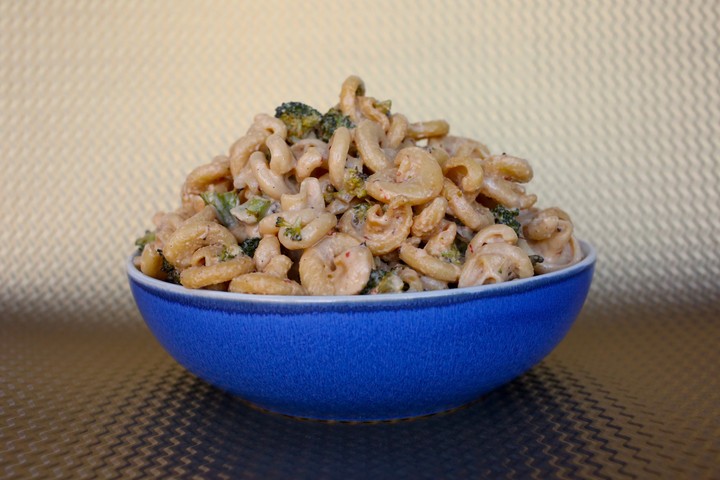 Photo by Farideh Sadeghin
Servings: 4
Prep: 1 hour soaking
Total: 1 ½ hours
Ingredients
1 large head broccoli, cut into bite-sized florets*
1/4 cup|60 ml extra-virgin olive oil
1 tablespoon|7 grams chili flakes, plus more for serving
kosher salt and freshly ground black pepper, to taste
2 garlic cloves
1 cup|150 grams raw cashews, soaked for at least 1 hour
2 tablespoons|10 grams nutritional yeast
2 tablespoons|45 grams red miso paste
1 1/2 teaspoons|¼ ounce|8 grams plum vinegar (or apple cider)
½ teaspoon chili powder
½ teaspoon garlic powder
1 pound|500 grams of dried pasta, anything bite sized, such as orecchiette or elbows
Directions
1. Heat the oven to 425°F. On a baking sheet, toss the broccoli with 1 tablespoon olive oil, the chili flakes, salt, and pepper. Roast the broccoli until crispy, about 15 minutes.
2. Bring a small pot of water to a boil. Peel and halve the garlic cloves, taking care to remove the green sprout. Boil the garlic for 5 minutes, then drain. Add fresh water and bring to a boil. Add the garlic and cook for another 5 minutes. Drain, then transfer the garlic cloves to a blender. Drain the cashews and add it to the blender with the garlic, along with the remaining olive oil, the nutritional yeast, miso paste, vinegar, chili powder, and garlic powder.
3. Bring a large pot of generously salted water to a boil. Cook the pasta according to the instructions on the box. Drain, reserving 1/2 cup of the pasta water. Add the pasta water to the blender and purée until smooth. Toss the sauce with the pasta and the broccoli. Season with salt and pepper and serve immediately with extra chili flakes.
*Don't throw away your broccoli stems, they're delicious. Cut the fibrous outer layer off and eat the inner stems, dipped in hummus if you have it.