Follow VICELAND's Matty Matheson to His Favorite NYC Restaurants
Here's how the Canadian chef and 'Dead Set on Life' host does lunchtime in the Big Apple.
Matty Matheson, Canadian chef and host of VICELAND's Dead Set On Life, loves his home base of Toronto. But Matty also doesn't hesitate to profess his love for New York, and, more importantly, the food therein. We tagged along with Matty and his friend Julian for an indulgent day of restaurant-hopping in the Big Apple.
Every time I come to New York, I go to the tried-and-true places that I love, and I always try to go to a few new ones. Here you can eat anything you fucking want, at any time. That's the thing I love about New York.
Hi-Collar, 214 E 10th St, Manhattan
Hi-Collar is a sick fuckin' Japanese coffee spot. I'm not a massive coffee nerd—sometimes in the mornings you just want a cup of milky, sugary instant coffee, you know? Coffee can be as extravagant or as dog-shit as you want.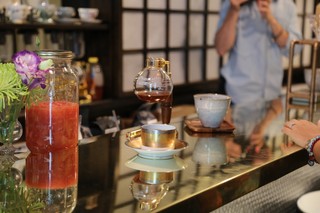 At Hi-Collar we had a few different kinds of espressos and roasted beans, and they did four or five kinds of coffee filtration techniques. It was such a cool thing, to watch somebody who's that invested in coffee do their job, and to experience it in that nice little shop.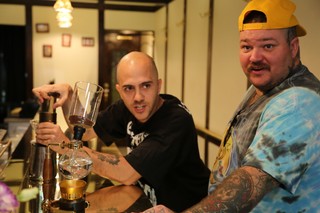 Mr. Donahue's, 203 Mott St, Manhattan
Next we went to Mr. Donahue's. It's like being in a dollhouse. It's fucking nine seats. Matt and Ann are really talented people, a really strong team, and they're married. Their aesthetic is on point, from design to execution to food. The menu is just a few things that are executed perfectly. You choose a main and a bunch of sides… It's like having a Hungry Man dinner.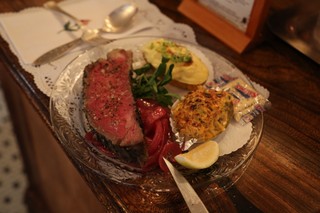 Matt opened the restaurant to make something that his grandfather, Mr. Donahue, would want to eat every day. He was a New York police officer—if there could be a cop, a firefighter, a pizza guy… all the New York walks of life, sitting at that bar, eating roast beef—that would be an amazing thing for Matt.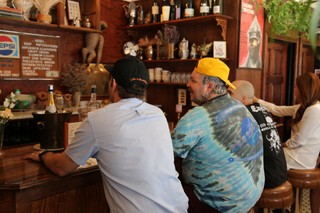 Frankie's 457 Spuntino, 457 Court St, Brooklyn
I'm fat as fuck, I love desserts. We went to Frankie's 457 Spuntino—I think it's the best dessert in NYC. The dish is literally fruit, wine, and cheese—it's warm, a little bit of butter, red wine reduction, these warm, meaty, unctuous prunes—literally like two fucking prunes—in this pool of really nice, cold, whipped mascarpone. It's fucked. It's the embodiment of finishing a meal on a strong note—those dudes hit it on the head.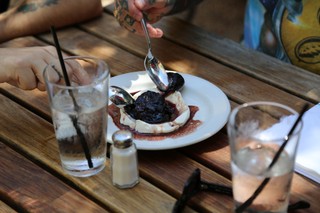 New York is the best city in the fuckin' world. You can spend as little or as much as you want on food, and everything is available. Anyone can eat however they want, and that's what makes the city special. Like Frank Falcinelli told me, "the worst day in New York is better than the best day anywhere else."
Don't miss the third season of DSOL, premiering April 6 on VICELAND.