Man Faces Harassment After Alleging Racist Imagery on Corn Pops Box
Kellogg's is changing the design after criticism—but that hasn't stopped novelist Saladin Ahmed from becoming a target of "the anti-PC crowd."
Screengrab via Twitter
When novelist Saladin Ahmed first saw the back of his kids' box of Corn Pops, he was struck. The illustration resembled a page you'd find in Where's Waldo, only with a litter of small, yellow buds of cereal milling about. The lone brown-colored character, Ahmed noticed, happened to be cleaning the floor.
The image left him unsettled: Why, he wondered, would the one visibly brown character on that box appear to be a janitor? What tired stereotypes regarding the societal roles of people of color did this seemingly innocuous cereal artwork peddle?
He tweeted about his discontent on Tuesday morning, tagging Kellogg's, the cereal's manufacturer. It didn't take long for that initial tweet to go viral. The exchange that followed was decidedly civil. The company responded to Ahmed's tweet later that day acknowledging that the depiction was an oversight on its part, agreeing to change the box's artwork promptly.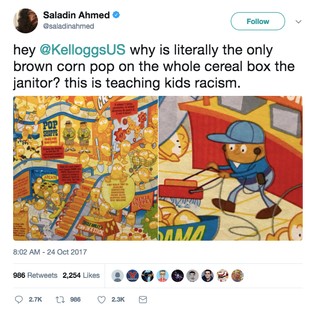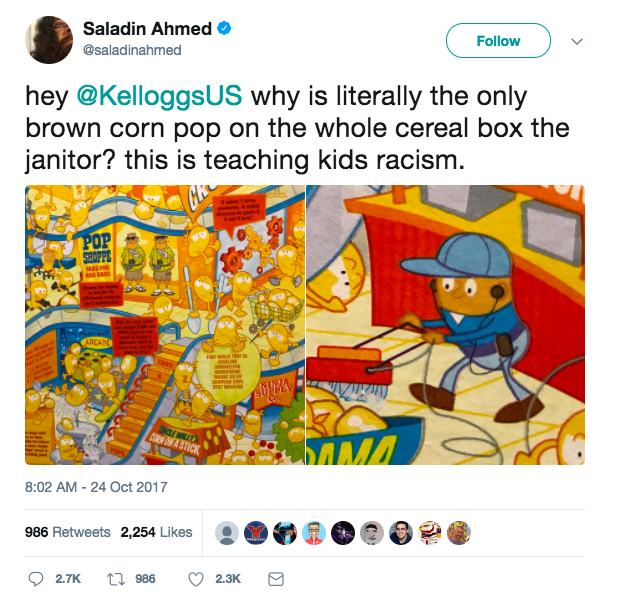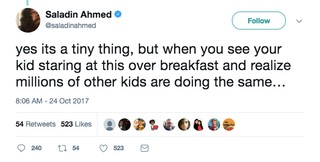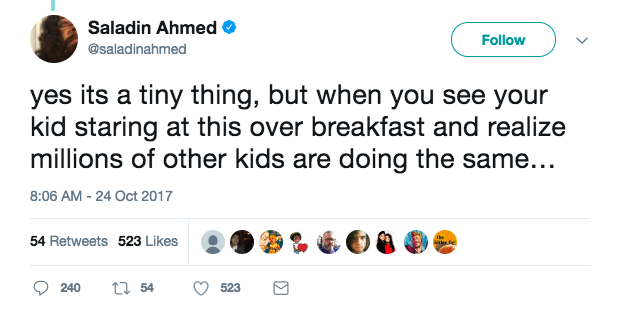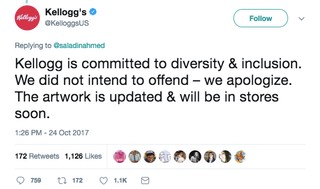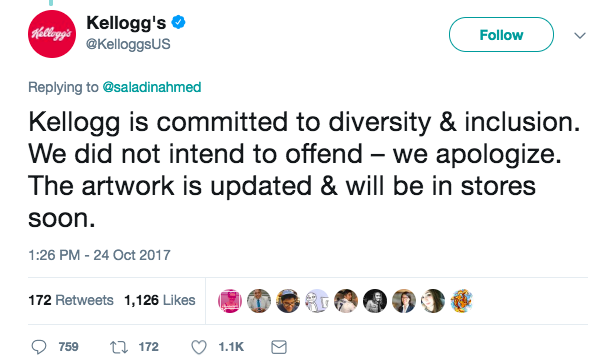 Since Tuesday, though, Ahmed has had to fend off accusations that he's simply manufacturing controversy out of nowhere, hand-wringing over the art on a cereal box. For every person who was grateful that he'd pointed out such a miscalculation, there were quite a few other users who found Ahmed's complaints surfacing a non-issue, and painting Kellogg's as a company that was caving too easily to pressure from perceived liberal hypersensitivity. (This isn't the first time the company has had to field such claims.)
"It's the death of a thousand cuts," Ahmed wrote MUNCHIES over e-mail Wednesday night, explaining his stance more fully. "White kids and brown kids alike absorb countless images every day. Quite a few of them reinforce the notion that brown people exist only to serve white people."
READ MORE: Minnesota State Fair Apologizes for 'Anti-Semitic' Sandwich
Ahmed acknowledges that this is merely a cartoon on the back of a cereal box, but he refutes the notion that such a depiction has no wider implications. "So is a cereal box a big deal? No," he wrote MUNCHIES. "But this image of a single brown character cleaning up after all the lighter characters is piled onto all the other images kids are seeing. After a while, this heap of images absolutely affects the way we see the world."

Ahmed spent much of the day on Wednesday tweeting through the harassment he faced, encouraging his followers to report tweets that were incendiary and abusive; they were coming at him at a breakneck pace. "The anti-PC crowd is furious," he wrote to MUNCHIES. "My tweet to Kellogg's was civil if stern, and their response was gracious. So I wasn't prepared for how up in arms certain folks would get."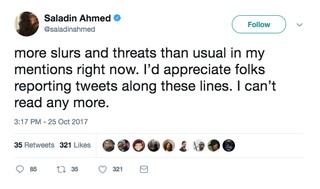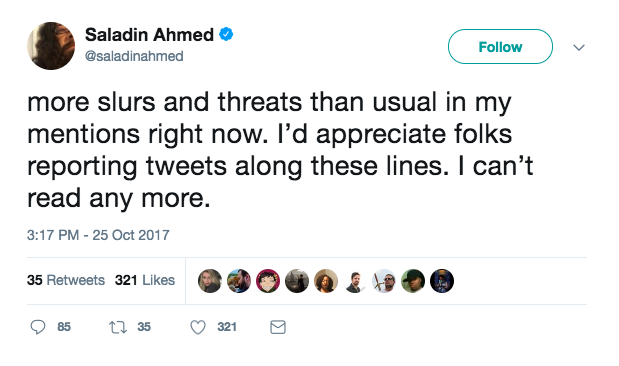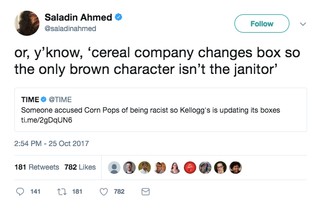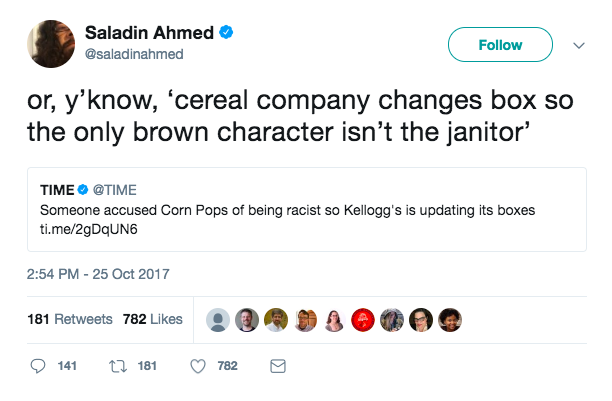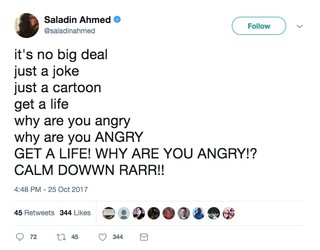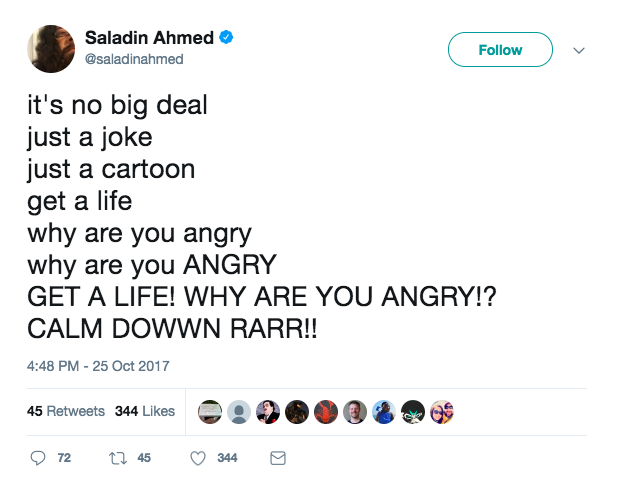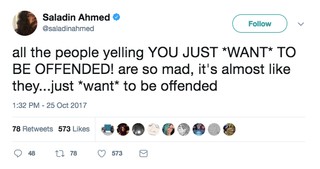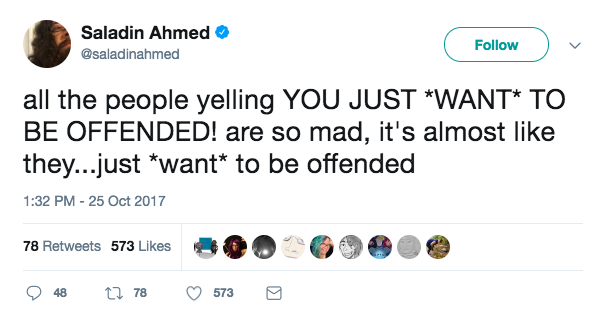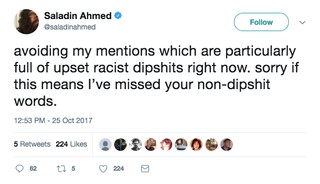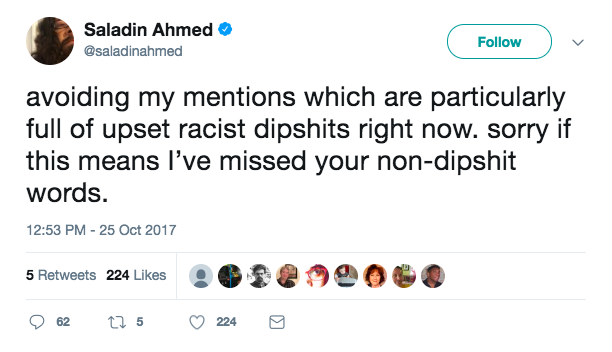 In spite of the venom coming his way, Ahmed is taking this in stride. "A lot of really, really enraged people [are] virtually screaming at me, IT'S JUST A CEREAL BOX! WHY ARE YOU SO MAD? Which, you know, is amusing," he said. Still, he worries that the framing of this incident by some outlets has been glib and brazen, and thus been doing more to encourage this frenzy than calm it. "I do wish more of the headlines and Twitter ledes mentioned what the box actually depicted which is, like, kind of stark," he argued.
READ MORE: Yet Another School Apologizes After Serving Insensitive Black History Month Menu
At the end of the day, though, Ahmed's tweet to Kellogg's has at least motivated the company to act. "Kellogg Company has respect for all people, and our commitment to diversity and inclusion has long been a top priority," company spokesperson Kris Charles wrote MUNCHIES via e-mail on Wednesday afternoon. "We take feedback very seriously, and it was never our intention to offend anyone. We apologize sincerely. The package artwork has been updated and will begin to appear on store shelves as soon as it flows through distribution."
Kellogg's did not respond to requests for comment from MUNCHIES regarding when the box was first circulated, and what this new depiction will actually look like.