Malaysian Prime Minister Compared to Marie Antoinette for Preferring Quinoa to Rice
Critics say this is further evidence he's unfit to lead the country.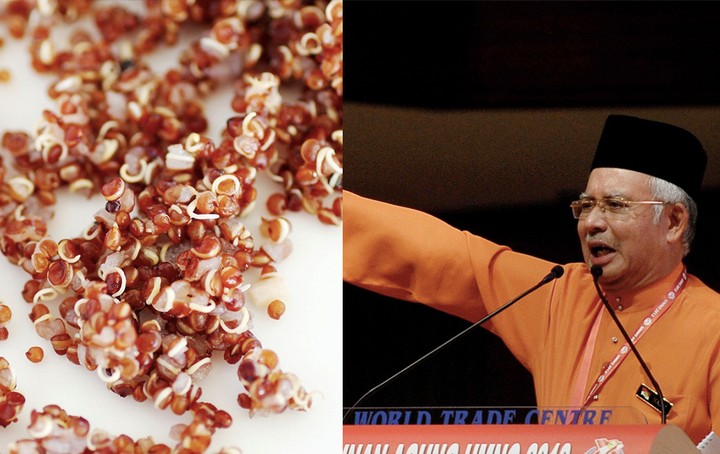 Photos via Flickr user Stacey Spensley and Wikimedia Commons
Rice forms the bedrock of so many staple dishes in Malaysian cuisine. Look no further than nasi lemak, the "national dish" of Malaysia that starts with a base of coconut milk-infused rice cradled in a banana leaf. In fact, until 2015, rice was subsidized by the Malaysian government.
Quinoa doesn't normally factor into dishes that are seen as markers of national pride, which is why so many Malaysians were enraged by recent comments made by Prime Minister Najib Razak on a recent televised question-and-answer panel last Thursday.
"I don't eat rice, I eat quinoa," he said during the panel. "My son introduced me to it. It is better than rice." He went on to describe the grain's Peruvian roots.
His comments, however casual, struck a raw nerve. Critics took Najib's declaration of dietary preference as evidence of something more nefarious: that he's disastrously out of touch with the lives and tastes of ordinary Malyasians, engendering suspicion that he may be, in fact, unfit to lead the country.
Former Prime Minister Mahathir Mohamad, who is leading the would-be opposition to Najib, took to Twitter on Friday to claim that he only eats local rice.
Another opposition leader, Lim Kit Siang, penned a strongly worded critique of the Prime Minister's remarks for the Malaysian Times the day after Najib made his remarks. He confessed he'd never heard of quinoa before going on to claim that a ten-kilogram packet of quinoa would cost roughly 23 times more than a packet of rice.
"This reminds me of the Marie Antoinette story of the last Queen of France before the French Revolution in 1789 where she was supposed to have said, 'Let them eat cake' when she learnt that the peasants had no bread," Lim wrote.
Voicing his gastronomic preferences, and getting heat for them, are likely the least of Najib's worries. Throughout his two terms thus far, he's found himself at the center of a tornado of many a corruption scandal.
The blowback to Najib's quinoa comments, however, was so uniformly furious that he had to issue an explanation on Facebook on Friday justifying his stance. He claimed his comments had been distorted within the media machine, and that quinoa is simply part of his "healthy diet."
Najib's press office did not respond to immediate request for further comment on Monday from MUNCHIES. The next election cycle is in August, which gives Najib plenty of time to convince his constituents that he does, indeed, love rice just as much as the rest of them.