Welsh Rarebit Recipe
The quick and cheesy answer to all your late night snack cravings.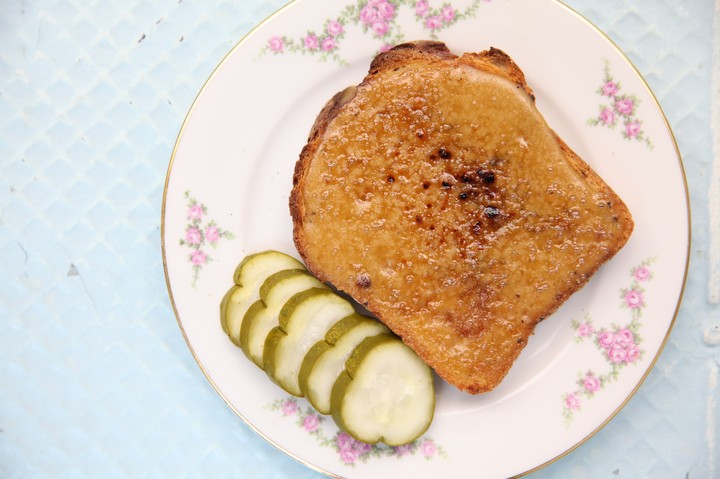 Photo by Farideh Sadeghin
Makes 4 1/2 cups
Prep: 10 minutes
Total: 25 minutes
Ingredients
4 tablespoons|63 grams unsalted butter
7 tablespoons|63 grams all-purpose flour
1 tablespoon mustard powder
1 teaspoon cayenne pepper
1 (11.2 ounce) bottle stout beer
1/4 cup Worcestershire sauce
1 1/2 pounds grated cheddar cheese
kosher salt and freshly ground black pepper, to taste
1 loaf white bread, sliced 3/4-inch thick
sliced pickles, to serve
Directions
1. Melt the butter in a medium saucepan over medium. Add the flour and cook 2 minutes, then stir in the mustard and cayenne. Slowly drizzle in the beer and cook until thick, 2 minutes. Stir in the cheese and cook until melted, then add the Worcestershire sauce and season with salt and pepper. Cool the sauce completely. Sauce will keep, covered and refrigerated, for up to 1 week.
2. Heat the broiler. Spread the bread on a baking sheet into an even layer and toast, flipping once, until golden on each side, 30 seconds. Spread 3 tablespoons of the rarebit sauce on one side of the toast and broil until bubbling, 30 seconds. Serve with more Worcestershire sauce and the pickles.
From: Welsh Rarebit is the Snackable Midpoint Between Grilled Cheese and Fondue