Portland Chef Reportedly Forced Out of Country Due to Visa Issues
Manuel Lopez made Angel Food & Fun a beloved spot for Mexican food in Portland. But Lopez can allegedly no longer work there because his visa was not renewed.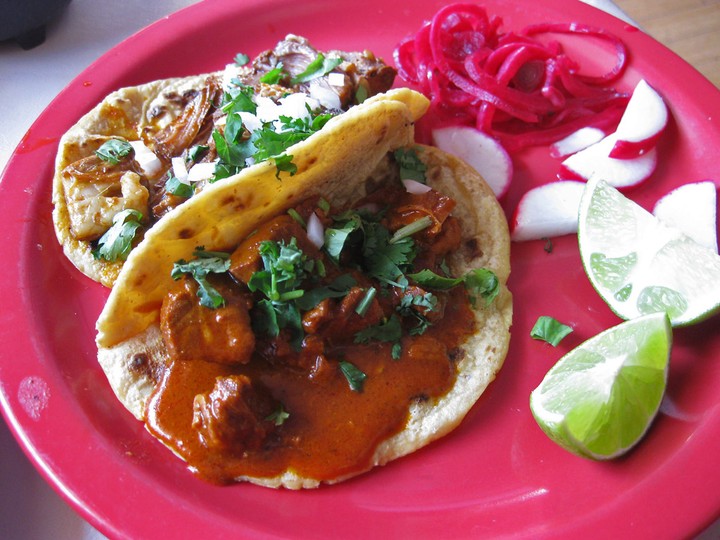 Cochinita Pibil. Photo via Wikimedia Commons.
Yucatan native Manuel Lopez had been working as a chef at cash-only joint Angel's Food & Fun in Portland since 2013. His menu was known for its cochinita pibil, menudo, and salbutes. Under Lopez's tutelage, the eatery earned a reputation as one of the city's best options for Mexican food.
Lopez has now reportedly been forced out of the country, according to a story published by Portland alt-weekly Willamette Week on Monday afternoon, after being denied a visa extension. Willamette Week sourced this information from a Facebook post made by former Clyde Common executive chef Carlo Lamagna saying as much.
"I don't know the full details on what happened at all at the restaurant," Lamagna wrote MUNCHIES on Tuesday, noting that he was not sure if the rumor about Lopez's visa is "totally true." "All I know is that I hope the new owners can live up to the same quality of food that was being pumped out of there. It just sucks seeing something that has become a staple in this neighborhood vanish so quickly."
Lopez is allegedly due back to Mexico, leaving behind his wife and five children. Though the restaurant's owner, Tai Nguyen, could not be reached for immediate comment by MUNCHIES on Tuesday, he told The Oregonian on Tuesday morning that Lopez was reportedly en route to Mexico while one of Lopez's friends was now running the restaurant. This contradicted Willamette Week's report alleging that the restaurant has shifted ownership entirely, a transfer of power that's resulted in a bare-bones menu—a shadow of what it was under Lopez.

READ MORE: This Is What Undocumented Restaurant Workers Think About Donald Trump

When reached by phone on Tuesday afternoon, an employee of Angel said that Lopez had left the restaurant "a couple of weeks ago" and that he was "not sure" if Lopez left the restaurant due to visa issues. He claimed that the restaurant came under new ownership "two weeks ago." Lopez also could not be reached for comment.