Peanut Butter and Jelly Were Meant for Ice Cream
Turns out, your favorite childhood lunch was born to be a dessert.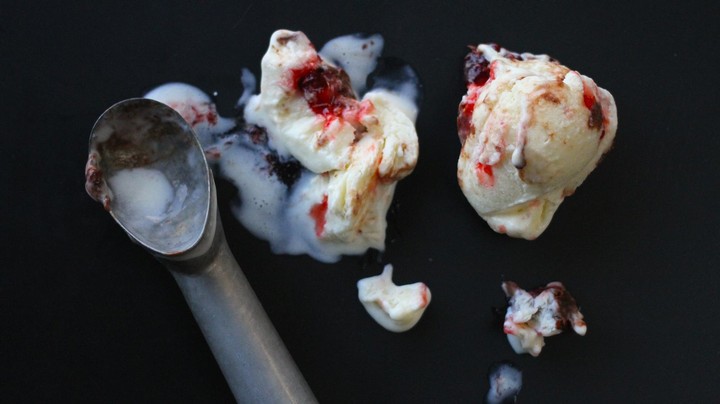 People like to say there's nothing more American than apple pie. But if we're totally honest, that's not true, even if we're limiting ourselves to the realm of food.
Austria has apple strudel, France has tarte tatin, and the Netherlands has apple crumble. You know what's way more American than a dish that originates in Europe? Peanut butter and jelly.
Not only because you grew up eating it—probably sans crust—like, all the time, but also because the rest of the world is completely and utterly baffled by this uniquely American creation.
As perfectly fine as the PB&J is, it's hard not imagine there's a way to improve on the classic Jiffy and Smucker's on Wonder Bread. Yet, many have tried, but most have failed. No fancy-ass rustic loaf or $12 artisanal preserves have really improved upon the one your mom made you for school lunch.
The classic form has remained the best—until now.
RECIPE: Peanut Butter and Jelly Ice Cream
It turns out PB&J was really always meant to be a dessert. Portland-based Salt and Straw has concocted PB&J ice cream mostly out of necessity, as it was looking for the perfect flavors to create ice cream out of food waste (and if there's anything more American than apple pie or PB&J, it's wasting food), but it turns out necessity produces some damn spectacular inventions.
Then again, how couldn't it be delicious? It's kinda like your favorite childhood sandwich just had sex with your go-to summer treat. And nothing tastes sweeter than nostalgia.