Chicken Saltimbocca
Wrapping your meat in more meat is a splendid idea.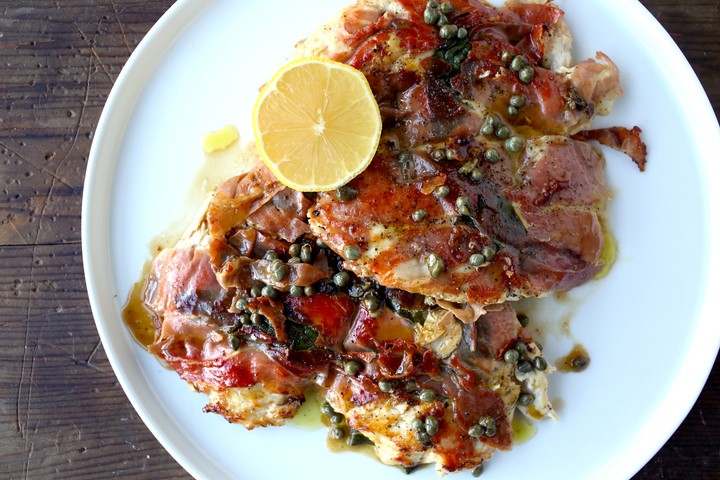 Photo by Farideh Sadeghin
Servings: 4
Prep: 15 minutes
Total: 30 minutes
Ingredients
4 large boneless, skinless chicken breast
freshly ground black pepper, to taste
24 large sage leaves
24 slices prosciutto di parma
¼ cup olive oil
4 tablespoons unsalted butter
1/4 cup capers
lemon wedges, to serve
Directions
1. Working with one piece of chicken at a time, place the chicken on a cutting board and cover with parchment paper. Gently bash with a rolling pin to flatten until about 5mm thick.
2. Season the chicken with black pepper; there is no need for salt as the prosciutto is salty. Top the chicken with the sage leaves, followed by the prosciutto, folding around the breast to completely cover both sides.
3. Heat the oil and butter in a large skillet over medium. Working in batches, cook the chicken until golden, about 7 minutes. Flip and add the capers, frying gently to allow the capers to bloom, about 2 minutes more.
4. Remove from the pan and serve with a wedge of lemon and soft polenta and parmesan for cold nights.