Breakfast Hash
This versatile dish is perfect for breakfast, lunch, or dinner.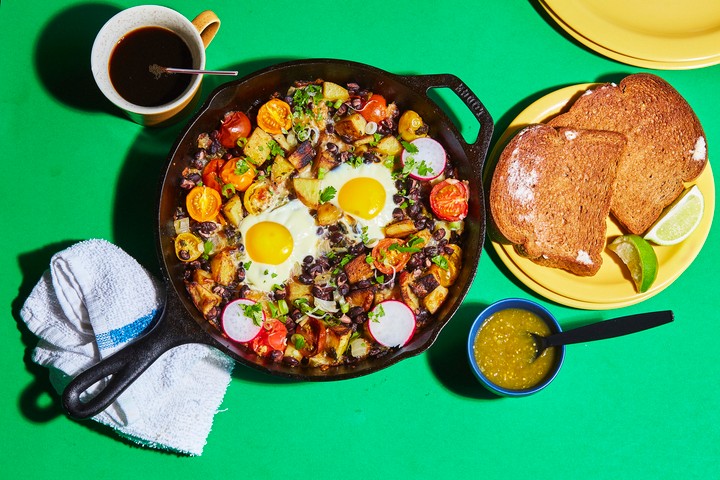 "You can put whatever you want in a hash, and it's yours. But this one's mine, and I'm showing you how to make it."
Servings: 2
Prep: 10 minutes
Total: 35 minutes
Ingredients
1 yellow onion
1 poblano pepper
1 jalapeño
2 radishes
2 green onions
5 ounces heirloom cherry tomatoes
1 garlic clove
2 yukon gold potato
¼ oz fresh cilantro
1 lime
4 ounces black beans
6 ounces mozzarella cheese (shredded)
2 large eggs
2 slices whole wheat bread
1 can salsa verde
Directions
1. Heat the oven to 450°F. Dice the onion into ¼-inch pieces. Set aside. Remove the stem, pith, and seeds from the poblano and jalapeño. Dice into ¼-inch pieces. Set aside. Slice the radishes into ¼-inch rounds. Place in a small bowl and cover with water. Set aside. Slice the green onions into ¼-inch pieces. Set aside. Cut the cherry tomatoes in half. Set aside. Finely chop the garlic. Set aside.
2. Peel and dice the potato into ¼-inch pieces. Season with ¼ teaspoon each of salt and pepper. Set aside. Remove the stems from the cilantro discard stems. Rough chop leaves. Set aside. Cut the line into wedges. Set aside.
3. In a large oven-proof sauté pan on cast iron skillet bring 2 tablespoons of olive oil to high heat. When hot, carefully add the potatoes. Cook, stirring occasionally until the potatoes are golden brown, about 8 to 10 minutes. When cooked, remove the potatoes using a slotted spoon and place on a plate lined with paper towels to drain the excess oil.
4. In a large ovenproof sauté pan or cast iron skillet add 1 tablespoon of olive oil and bring to medium-high heat. When hot, add the onions, poblano, and jalapeño. Sauté for 5 to 6 minutes until tender. Drain the black beans, and add to the sauté pan. Add the potatoes, garlic and cook for 1 minute. Add the heirloom cherry tomatoes and mozzarella cheese. Stir to combine.
5. Crack the eggs over the vegetable mixture. Place the ovenproof sauté pan or cast iron skillet in the oven and bake for 15 minutes until the edges are browned, tomatoes have blistered, and eggs have lightly set. Place the slices of bread directly on the oven rack and bake for 3 to 4 minutes, until lightly toasted.
6. Butter the toasted bread and place one slice one each of 2 plates. Serve the breakfast hash event between the plates. Serve the salsa verde on the side. Garnish with the green onions, cilantro, radishes and lime wedges.