Emergency Services Rush to Save Expensive Wine from Hurricane Irma
The gravest concerns for collectors are flooding, which could destroy labels and degrade corks, and power outages that could shut off fridges.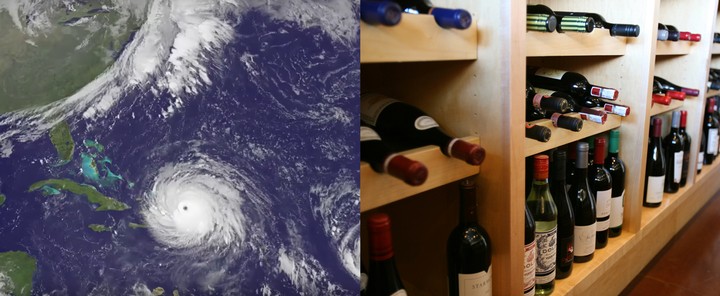 Images via NASA and Flickr user Cherry Bream
As Hurricane Irma draws closer to the Florida coast after devastating the Caribbean, where it affected more than 1.2 million people and led to at least 20 deaths, residents of the Southeastern coast of the US are frantically trying to prepare for the destruction it might bring, from leveling homes to knocking out power to thousands upon thousands of people and businesses.
But with panicked efforts underway to save families, pets, and homes, some emergency responders in Florida and Louisiana are also committed to saving an asset that some fear is particularly susceptible to damage during the storm: expensive wines.
According to Newsweek, collectors and wine suppliers are rushing to move valuable stockpiles of valuable wines out of the path of Irma, which was downgraded from Category 5 to Category 4 as of Friday afternoon and is expected to make landfall tomorrow morning. The gravest concerns for collectors are flooding, which could destroy labels and degrade corks, and power outages that could shut off fridges. Changes in temperature can even cause bottles of wine to explode under some circumstances.
Adam Gungle, the chief executive officer of a wine transportation service called Xpeditr, which specializes in protecting wine investments during natural disasters, told Reuters, "The wrath of a hurricane can ruin delicate pieces of liquid history... Hurricanes Andrew, Katrina and Sandy ruined tens of millions of dollars worth of fine wine. A lot of these bottles survived World War I, World War II."
Some of the collections being relocated are worth millions of dollars and include bottles that are more than a century old. Gungle also noted that some of the bottles are being aged by collectors to be donated to charity.
Xpeditr founded its Emergency Response Team after Superstorm Sandy destroyed millions of dollars worth of wine when it struck the East Coast in 2012.
English billionaire and Virgin founder Richard Branson revealed today that when he found that his 74-acre private island were in the path of Hurricane Irma, he survived by holing up in his wine cellar.
As he braced for Irma's arrival last night, Branson wrote on his blog on Virgin's website, "Knowing our wonderful team as I do, I suspect there will be little wine left in the cellar when we all emerge." Thankfully, he, his team, and the wine all made it through the storm.
READ MORE: These Houston Bakers Are Too Busy Making Bread to Talk About Being Heroes
"We took shelter from the strongest hurricane ever inside the concrete cellar on Necker and very, very fortunately it held firm," he wrote in a follow-up blog post today. "I have never seen anything like this hurricane. Necker and the whole area have been completely and utterly devastated... For those who are still in the path of Hurricane Irma, and Hurricane Jose to come, I cannot emphasize enough how important it is to put safety first and prepare as strongly as possible. Having seen first-hand the power of this storm, please ensure you stay inside, ideally in organized shelters or other solid concrete structures with water, supplies and emergency contact plans."
And it wouldn't hurt to have some wine in your bunker, too. For continued coverage of Hurricane Irma, follow VICE News.