Baked Ziti Recipe
Inexpensive, no-fuss Italian-American cooking at its finest.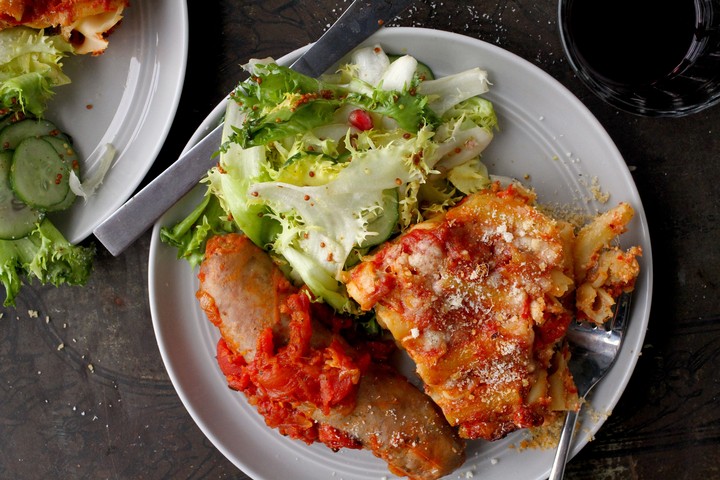 Photo by Farideh Sadeghin
Servings: 6-8
Prep: 20 minutes
Total: 2 1/2 hours
Ingredients
¼ cup extra-virgin olive oil
½ pound|230 grams pork neck bones (optional)
kosher salt and freshly ground black pepper, to taste
6 garlic cloves, thinly sliced
1 large yellow onion, finely chopped
1 tablespoon dried oregano
1 ½ teaspoons chili flakes
2 (28-ounce|793 grams) can whole peeled tomatoes, crushed by hand
1 pound|460 grams fresh sweet Italian sausage
½ bunch fresh basil
1 pound|454 grams ziti
¼ cup|30 grams Italian breadcrumbs
1 cup|230 grams fresh ricotta
2 cups|200 grams pecorino romano
2 whole large eggs, beaten
Directions
1. Make the gravy: Heat 2 tablespoons of oil in a medium saucepan over high. Season the pork neck bones with salt and cook, turning as needed, until browned, about 6 minutes. Reduce the heat to medium-high and add 1 more tablespoon oil, the garlic, and onion and cook until soft and slightly golden, about 3 minutes. Add the oregano and chili flakes and cook until the oregano is aromatic, about 1 minute. Stir in the tomatoes and cook for 30 minutes. Add the sausage and cook over low heat for another hour, stirring occasionally, until some oil pools at the top of the sauce. Stir in the basil and remove the neck bones (you can discard the bones). Carefully remove the sausage and allow to cool in a shallow baking dish with enough of the tomato to slightly cover. Season with salt and allow the gravy to cool for a few hours or overnight.
2. Bring a large pot of generously salted water to a boil. Add the pasta and cook, stirring, until al dente, about 8 minutes. Drain, then run the pasta under cold water.
3. Generously spread the remaining olive oil in a 9-by-13-inch casserole dish and then season with breadcrumbs so that the dish is evenly coated. In a large mixing bowl combine pasta, ricotta, 1 cup pecorino, eggs, and 1 cup of the gravy. It should have a pink color but not be too saucy. Season with salt and pepper and spread the mixture into the prepared casserole dish. Pack tightly, adding more sauce as needed so that it is dense. Top with a bit more sauce and the remaining pecorino romano.
4. Heat the oven to 350°F. Bake the ziti for 45 minutes, until the cheese is melted and golden and the casserole is bubbling. Cool for at least 15 minutes before serving. While the pasta is baking, heat up cooked sausage with the rest of the gravy. To serve, cut a generous square of the ziti, ladle some gravy, place a link of sausage next to it, and top with grated cheese.