Easy Homemade Queso
The only way to improve queso is to make your own tortillas to dip into it.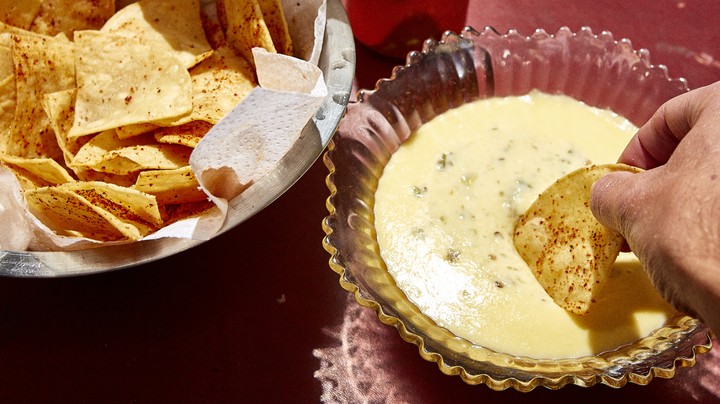 Photo by Heami Lee
Servings: 6
Prep: 10 minutes
Total: 25 minutes
Ingredients
for the tortilla chips:
canola oil, for frying
12 (6-inch) corn tortillas, quartered into triangles
2 tablespoons Tajin Mexican Spice Blend
kosher salt, to taste
for the queso:
12 slices|250 grams American cheese
2 cups|250 grams shredded Oaxacan queso
2 cups|250 grams shredded Monterey Jack cheese
1/2 cup|125 ml whole milk
1/4 cup|65 grams chopped pickled jalapeños
Directions
1. Make the tortilla chips: Heat 2-inches oil in a large dutch oven until a deep-fry thermometer reaches 350°F. Working in batches, place tortilla pieces in oil and fry until golden brown, 2 to 3 minutes. Using a slotted spoon, transfer the chips to a paper towel-lined baking sheet and season with the Tajin and salt.
2. Make the queso: Heat 1 cup of water in a small saucepan over medium. Place a heat proof bowl over the saucepan to form a double boiler. Place the cheeses and milk into the heatproof bowl and allow to melt, stirring often. If mixture seems too thick, add a bit more milk. Once the cheese has melted, stir in the jalapeños and serve immediately with the chips.